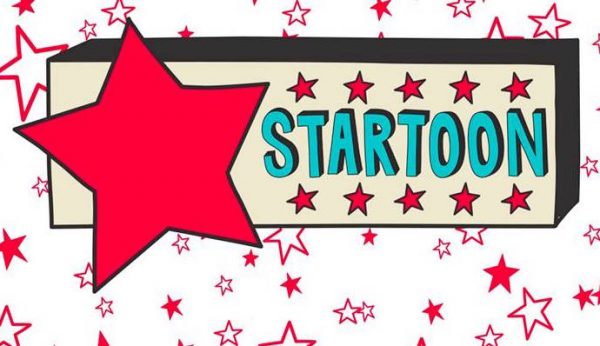 For those readers who don't know me, when I'm not maintaining this site I also work as an animation producer and director in Toronto. Occasionally what I do in that identity overlaps with what I do here, and I try my best to be really transparent about it. This is one of those times.
I'm currently producing a new creative outreach program that's being funded here in Canada by the Shaw Rocket Fund. It's a partnership with a really interesting company from the UK, Wildseed Studios. You should check them out, they do interesting things. Startoon is basically an online talent show designed to reach out to creators in the animation community and help develop cartoon characters into actual, pitchable tv shows. I'm extremely cautious when it comes to this kind of thing. We've seen tons of "contests" pop up over the years that really just amount to someone asking creators to sign over the rights to their ideas with sometimes zero compensation. Thankfully, Startoon isn't that. Yes, we want creators to submit ideas, and yes, there are terms and conditions that need to be agreed to take part. And yes, the goal here is to eventually have something that could be pitched and sold to a network. It's business, and there's a business side. But they've worked really hard to make something creator-friendly, where the creator maintains ownership of their IP and the terms aren't all out of whack. There aren't a lot of alternatives in Canada. We don't have programs like the Nickelodeon Shorts program. So this is something new, and we're giving it a shot. Also, there's a $25,000.00 production budget for a short pilot, that's the "prize". So not too shabby.
The open auditions launched yesterday, and I'm going to be sharing stuff here on the site. I promise not to hijack it, but I believe in this project enough to be doing it, so I need to share it as much as possible. And this site is the place for this kind of initiative.
So I hope you don't mind.
The open auditions have started, we're looking for creators to buy in, drink the Startoon Kool-Aid, and give it a shot. There's a press release, that's how real we are, see? and I'll even embed the video of me talking about it, despite my crippling anxiety. But our challenge is going to be reaching you guys, the creators. So please share, repost this on facebook and twitter or just tell your friends about it. I think we might be on to something, and I think good things could come of this. I just need you to think so too.
Cheers,
Mike

Startoon – a talent show for animated characters – launches in Canada
TORONTO, ON, May 18, 2016 – Shaw Rocket Fund has teamed up with UK digital incubator Wildseed Studios to launch Startoon Canada – an innovative animation talent and IP development initiative designed to find and develop the next hit animated character for 6 to 11 year old kid audiences from a Canadian Creator.
Startoon is a traditional talent show, consisting of open auditions and elimination rounds, with the twist that all the contestants are animated. Canadian animators of all walks can participate online and will be judged by a panel of experts, with audience participation throughout. The winning character will be announced in October 2016, where the creator will be awarded a budget of up to $25,000 to produce a short or pilot to showcase their winning character. Startoon will run online through a dedicated website, www.startoon.ca.
The Startoon development format is designed to create a level playing field for artists and creators who have ideas for animated characters and who are looking for an opportunity to develop those characters in conversation with industry professionals and with their intended audience. Creators retain ownership of their characters throughout the competition.
"This is a character development competition," says Wildseed Creative Director Jesse Cleverly. "In the early stages of the process we are not looking for polished animation, but we are looking for great character ideas that can become compelling animated properties."
Participating creators will be able to take part in character development workshops, and Startoon will be providing resources, training and support for creators as they progress through the competition.
"It's an exciting initiative to be working on, to find the next creative superstar," says Mike Valiquette, producer of Startoon Canada. "We're reaching out directly to creators in a way that genuinely keeps the focus on them and their work, and really puts them through their paces. Auditions open on May 18th, public voting begins in June, and the actual challenges launch in July. We're doing something new and creator focused; there was no way I wasn't going to be a part of it."
"Launching this forward thinking online development concept for animators in Canada – where there is such strength and depth of animation talent – is not only exciting, but falls within the Shaw Rocket Fund's mission of supporting the
growth of the Canadian children's media industry," says Agnes Augustin, President & CEO of the Shaw Rocket Fund. "We are pleased to be able to provide a platform for Canadian talent to showcase their work to experts and the public in a fun and innovative way."
More information about Startoon and how to get involved with the competition can be found on the Startoon website, www.startoon.ca.
About Shaw Rocket Fund
The Shaw Rocket Fund is a forward thinking, independently governed not-for- profit organization dedicated to investing in quality Canadian children's, youth and family media content with financing and initiatives that support the growth of the production industry such as the much celebrated Shaw Rocket Prize. Contributors to the Fund are Shaw Communications, Shaw Pay Per View Ltd., a division of Shaw Cablesystems GP, and Shaw Direct.
About Wildseed Studios
Wildseed Studios had been investing in and mentoring new and emerging talent in the UK since opening its doors for business in 2013. The Wildseed mission is to enable a new generation of talent and creators with investment and mentorship and to help them take what they do, often on their own and from their homes, to the next, professional level.