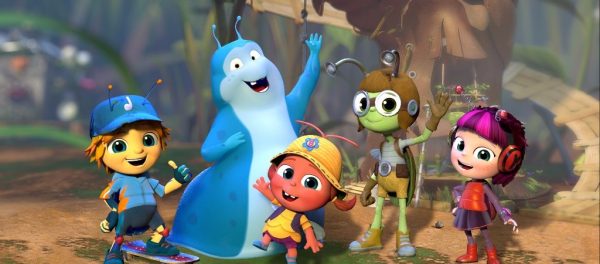 Thunderbird's Netflix Original
Beat Bugs
Brings Reimagined Beatles Songs to a New Generation
Vancouver (July 27, 2016) – Thunderbird, Grace: A Storytelling Company and Beyond Screen Productions are pleased to bring the highly anticipated animated children's series Beat Bugs to Netflix on August 3. Inspired by the songs of The Beatles, the show will feature musical artists like Eddie Vedder, P!nk, James Bay, Sia, The Shins, Of Monsters and Men, Chris Cornell, Regina Spektor, and James Corden, each recording their own rendition of an iconic song from the Lennon/McCartney 'Northern Songs' catalogue.
Created by Josh Wakely, Beat Bugs tells the story of five charming, funny, adventurous friends, Jay, Kumi, Crick, Buzz, and Walter, who have a knack for getting themselves into mischief and mayhem. Each character has a distinctive personality, and they display the charm and energy of five knockabout, lovable kids. They are best friends who band together to explore and learn in an overgrown suburban backyard, which to them is their entire universe. With a little help from rock legends, the friendly bugs learn big lessons about the world around them.
Featured songs in Beat Bugs include Help!, All You Need Is Love, Come Together, Penny Lane, Yellow Submarine, Lucy In the Sky with Diamonds, Sgt. Pepper's Lonely Hearts Club Band, and Magical Mystery Tour. It was announced today that the second season of Beat Bugs will begin streaming on November 18, with artists such as Rod Stewart, Jennifer Hudson, Aloe Blacc, and Robbie Williams as confirmed additions.