Last updated on August 5, 2016
This is one of those tough ones. Toronto's Arc Productions is closed. We were sent a photo just now of a notice taped up to the front door, courtesy of www.torontovfxjobs.com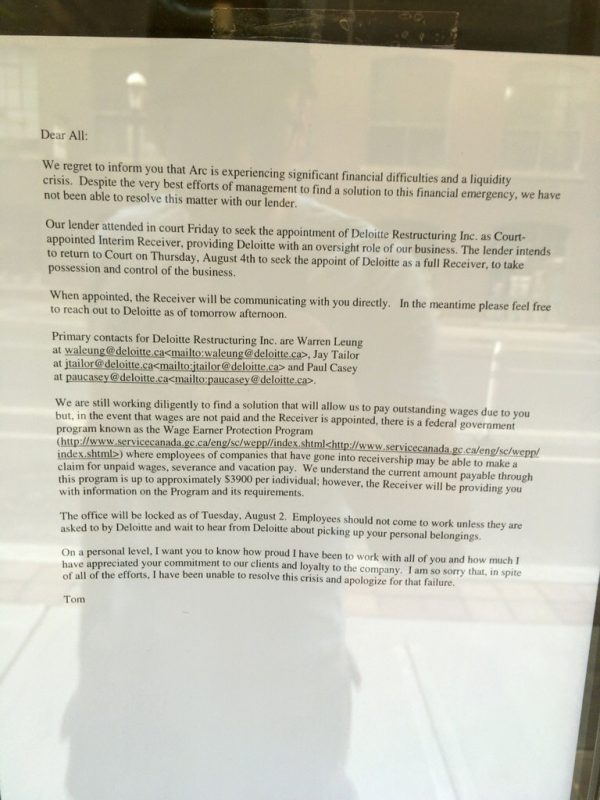 UPDATE (August 5, 2016): The Globe and Mail has the most comprehensive coverage so far of the facts leading up to Arc's closure. It's behind a paywall, but Mark Mayerson has summed up fairly well on his blog. Mark's been sharing his very balanced assessment of the situation here and here. I'd encourage you all to go have a read.
Original post:
Employees are receiving emails notifying them of the situation as we speak, and were informed on Friday of a "pay glitch" that prevented them from being paid per the usual schedule.
This is really tough, and will affect a lot of people. We'll share info as we get it.
UPDATES: Joe Raasch is doing an amazing job of sharing job posts and opportunities: http://www.torontovfxjobs.com/blog/2016/8/1/arc-productions-closes
Other news outlets are picking up the story, but there's no real new info.
http://www.cbc.ca/news/canada/toronto/toronto-s-arc-productions-files-for-bankruptcy-locks-out-employees-1.3703913
BREAKING: Arc Productions Declares Bankruptcy, Locks Out Hundreds of Employees
Animation studio, awarded $23M in provincial funding, declares bankruptcy
Thankfully, there's a lot of work to be had right now, and many of those let go will be fielding offers as we speak. But 500 or so employees is a lot for the Toronto market to handle, and Arc paid well. Matching those salaries will be difficult.
People are sharing job posts online, and this is another example of how a community comes together to help each other out.
There's the question of wages, and the note in the photograph provides a couple of email addresses that people can use to pursue that at Deloitte Restructuring Inc, the interim receiver.
Warren Leung: waleung@deloitte.ca
Jay Tailor: jtailor@deloitte.ca
Paul Casey: paucasey@deloitte.ca
More news as we have it.