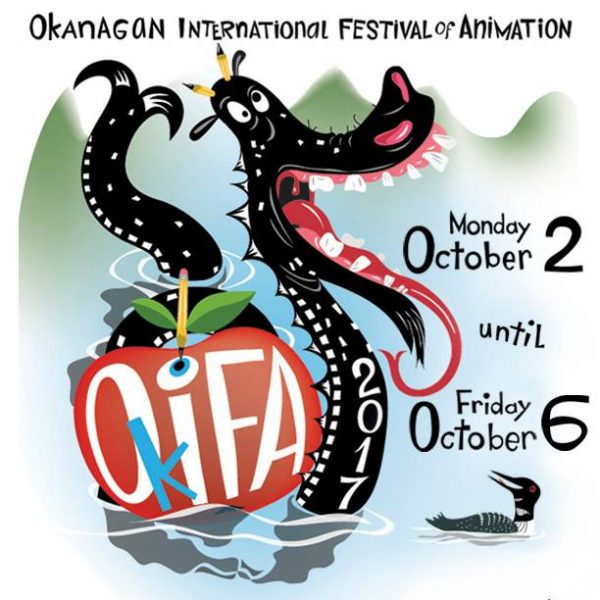 International animation festival set for October 2017 in BC's spectacular Okanagan
The Okanagan International Festival of Animation is on!
Kelowna, B.C. ­ The Okanagan International Festival of Animation (OkIFA) is an annual five-day animation and digital media festival, market and conference set to launch from October 2 ­ 6, 2017, in Kelowna, British
Columbia. This exciting new event will offer animated and digital media screenings that include independent and larger budget productions, blockbusters, commissioned and non-commissioned films, and student work.
These screenings will be interwoven with a range of events including opening and closing galas; an awards ceremony; a Nuit Blanche where the cultural hub of Kelowna will be lit up from dusk to the early morning, offering our visitors a unique glimpse of Kelowna's diverse cultural section in its beautiful urban core; a career day where aspiring animators and artists can have face time with world-class animation schools, studio recruiters and industry professionals; and an animation marketplace.
Each year, OkIFA will feature a different artistic director. Executive Director Anne Denman recently announced that highly respected animation icon Danny Antonucci has accepted the role as the festival's inaugural Artistic
Director. Said Denman: Danny's remarkable body of work from the Lupo the Butcher film to MTV's The Brothers Grunt to Cartoon Network's Ed, Edd n Eddy have inspired countless artists and entertained millions. We're thrilled that he is working with us to help make this a first-rate animation and digital media event that will attract industry professionals and fans from around the world.
OkIFA's Platinum Sponsors are the Centre for Arts and Technology and Toon Boom. Capilano University has signed on as a Gold Sponsor. The Silver Sponsors to date are: AWN, Roketto, Okanagan Film Commission, Central Okanagan Economic Development Commission, Westcorp, The Trophy Den, Source Office Furnishings, Canadian Animation Resources and Creative BC.
Set for its inaugural event, from October 2 ­ 6, 2017, the Okanagan International Festival of Animation will celebrate the many forms of animation and digital media from around the world, with a special focus on
Canada and the U.S.
The festival will quickly become the event of the year for animation and digital media professionals and fans from around the world. For more information, please visit: http://www.OkIFA.ca.