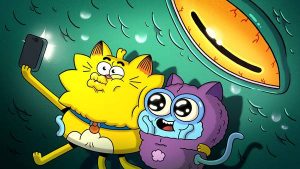 Toronto, Canada – September 19, 2016  – Tricon Kids & Family's award-winning original animated comedy series Counterfeit Cat  (52×11′ and 11×2′ shorts) pounces onto Disney XD and Disney Channel in multiple territories including France, South East Asia, Japan, Australia/New Zealand, and Latin America. Counterfeit Cat received its world premiere in May on Disney XD UK and has also premiered in the US on Disney XD and its multiple platforms including the Disney XD app and via video on demand in June.  It will claw its way into Canada later this year on Teletoon.
A UK/Canada co-production between Tricon and Wildseed Kids, the series was originally commissioned by Disney XD EMEA and Canada's Teletoon. Tricon International handles global distribution and property rights management.
Counterfeit Cat follows the story of an unconventional friendship between a lazy, selfish house cat and an excitable, naive alien with a mysterious destiny and a homemade purple cat suit. Gark is not a real cat, he's a Counterfeit Cat. He's a small blue alien in a purple cat costume. Max is a real cat: fat, fluffy, yellow and constantly pampered by his doting owner Betty. When Gark crashes his spaceship into Betty's laundry room, he finds a new home and forms an unconventional friendship with Max, who quickly learns how to take advantage of Gark's mysterious alien powers and his sweet, trusting nature.
About Tricon Kids & Family
Tricon Kids & Family is a boutique division of Tricon Films & Television, one of North America's strongest independent production and distribution companies dedicated to producing and representing ground-breaking television. Tricon Kids & Family features both original production and acquired third party content. Following the success of the multi-season, award winning format The Next Star, Tricon Kids & Family specializes in developing strategic partnerships in all genres including animation, live-action scripted and reality.www.triconfilms.com/kids-family.
About Wildseed Studios www.wildseedstudios.com
Founded in 2013 by Miles Bullough & Jesse Cleverly, Wildseed Studios is a new type of Entertainment Company based in the UK whose mission it is to help bring creative projects to life through nurturing, developing and financing talent. Wildseed Studios is dedicated to providing audiences with fresh, original content from the next-generation of creators.