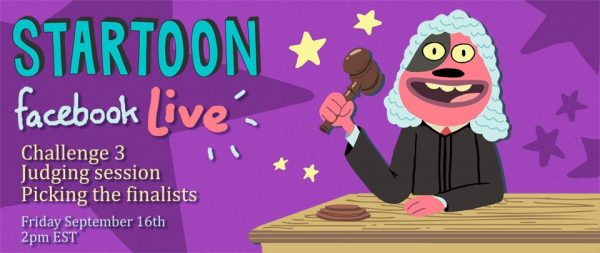 I've mentioned this before on here, and I'm often sheepish when it comes to sharing stuff I'm working on, but today is our live judging session for the 3rd Startoon Challenge!
We're going live via Facebook, and will be announcing the three finalists that are moving forward into the finals, and who will be competing for a 25 thousand dollar production budget to make a short pilot.
Our judges, CBC's Drew Mullin, DHX's Steph Betts, and CORUS' Brandon Lane, will be online live with me to discuss their choices and take part in a Q&A.
Check it out at 2PM Eastern time. Here's the link to the facebook page.
The entries have been amazing. There's work there from Sam Chou, Aaron Hong, Andy Greiling a bunch of other really talented people. It's honestly blown me away.
If you want to check out the entries, go here. Really, it's worth spending some time.