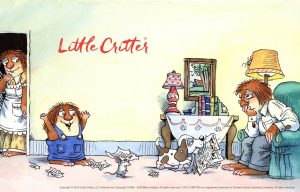 9 Story Media Group to produce new LITTLE CRITTER® animated series based on Mercer Mayer's beloved book series
Toronto, Canada –November 1, 2016 – 9 Story Media Group is pleased to announce that it has reached an agreement with Little Critter, LLC to produce a new animated series based on Mercer Mayer's beloved Little Critter children's book characters. 9 Story will also control worldwide distribution and merchandising rights for the series, with the exception of publishing and digital media content which remain with Little Critter, LLC.
Created by award winning children's book author and illustrator Mercer Mayer, the LITTLE CRITTER franchise has sold more than 200 million books worldwide over the past 40 years, with translations in eight different languages. The books have had considerable success in Asia recently, with over 100 titles released in China in 2016. The new 80 x 11 minute television series will feature a diverse cast of animal characters who live in Critterville, and will focus on neighborhood adventures and the challenges of growing up, underpinned by a narrative that promotes social-emotional learning.
The deal was negotiated by Stuart Snyder, former president and COO of Turner Broadcasting System's Animation, Young Adults and Kids Media Division. Little Critter, LLC tapped Snyder MEDIA GROUP, LLC. to help build Little Critter into a global brand, and to evaluate strategic partners and opportunities. Little Critter, LLC is spearheaded by longtime producer, creative director and writer John R. Sansevere, with partners Sword, Rowe & Company and real estate developer Richard Dreher.
"I am thrilled to welcome 9 Story to the Little Critter team," said Snyder. "When John and I first discussed potential partners, I knew from first-hand experience that 9 Story would be a tremendous partner. With their capabilities across CG and 2D animation, commitment to quality storytelling and long-standing track record in international distribution, 9 Story has the passion and know-how to make a LITTLE CRITTER series a hit show around the world."
"LITTLE CRITTER is an extraordinary brand," said Vince Commisso, President & CEO for 9 Story Media Group. "There are very few book based series as well loved, and with such a long history of success. Mercer Mayer has developed an incredible world, built around endearing characters and relatable stories. We are thrilled to work with Mercer, John, Stuart, and the whole LITTLE CRITTER team to bring this adored brand to life on screen."
"When we first formed Little Critter LLC, my goal was to find a strategic partner who recognized the global potential of the LITTLE CRITTER brand and an animation team that could bring the classic art and stories to life" said John R. Sansevere, CEO of Little Critter, LLC. "We are very happy to have Vince and his team as our production, distribution and licensing partner on the new LITTLE CRITTER series, as we feel they possess the creative sensibility to capture the timeless essence of LITTLE CRITTER and have the international reach to place LITTLE CRITTER on screens around the world!"
About 9 Story Media Group
9 Story Media Group is a leading content creator, marketer and distributor of kids & family focused intellectual property. Recognized around the world for best-in-class brands such as Daniel Tiger's Neighbourhood, Wild Kratts, Numb Chucks and Peg + Cat, 9 Story represents over 2,150 half hours of animated and live action programming, seen on some of the most respected international channels and platforms.  With one of North America's largest animation studios, 9 Story employs over 300 creative and production staff in its Toronto facility and has produced over 900 half hours of award-winning children's content. In 2015, 9 Story acquired the award winning animation studio Brown Bag Films, which employs over 200 staff members across Dublin, Manchester and Los Angeles.  Brown Bag is recognized for producing leading animated children's series such as Octonauts, Doc McStuffins, Bing and Henry Hugglemonster.  9 Story is owned by senior management, ZMC (Zelnick Media Capital) and media entrepreneur Neil Court. www.9story.com
About Little Critter, LLC
Little Critter, LLC is the content creator and media and publishing company. The company will be developing and producing accompanying lines of books, Apps and mobile games based on LITTLE CRITTER animated series.
About Stuart Snyder/Snyder Media Group, LLC.
Stuart Snyder provides strategic consulting to media, brands, animation and start-up companies. His clients presently include Little Critter LLC and Sumitomo Corporation. Stuart is also a co-producer of the new live theatrical stage show "The Exorcist" which opened in the UK in 2016 and is targeted for Broadway in 2017. Stuart is a member of the Board of Directors of Cupcake Digital, an entertainment online subscription service and serves on the Advisory Board of Insightpool, a Social Relationship Intelligence Platform that connects brands with influencers. Stuart most recently served as President/COO of Turner's Animation, Young Adults & Kids Media division, where he led assets such as Cartoon Network, Adult Swim, and Boomerang; the digital businesses Cartoonnetwork.com, Adultswim.com, Cartoon Network Video, and two animation production facilities. Stuart also served as the President/COO of World Wrestling Entertainment, Inc. and Feld Entertainment (Ringling Bros. and Barnum & Bailey and Disney on Ice). He also served as President/CEO of CINAR Corporation, a public animation, live-action and education production/distribution company.