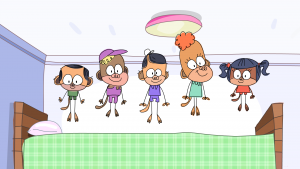 I like this press release. Sweet Tweets is a series of shorts produced in BC at Yeti Farm. They produced it themselves, with Jon Izen providing the creative chops. And now they're selling it. Congrats! -mike
Toronto, Canada – February 6, 2017 – 9 Story Media Group is pleased to announce that it has secured several deals with digital platforms for the animated shorts series, Sweet Tweets (32 x 2 to 3 min). Produced by YetiLABS, a division of Kelowna based animation studio, Yeti Farm Creative, the series is aimed at babies, toddlers and preschoolers, and features engaging nursery rhymes and original songs. The series of shorts premiered on YouTube as a digital-first property and has recently been picked up by several digital platforms including Toon Goggles (U.S.), Curious World (worldwide), Homer (worldwide) and Future Today (worldwide). The series has been previously licensed to Knowledge Network (Canada) and BBC Canada.
Sweet Tweets is a delightful series, featuring a chirping cast of adorable birds and backyard friends. Get whisked away with Momma Tweet, Poppa Sweet and their family full of Tweetle Bums, to a whimsical world bursting with wonderful stories and incredibly catchy songs for kids.
Yeti Farm Creative (www.yetifarmcreative.com) and its digital-first animation production and distribution company YetiLABS are located in the burgeoning tech district of beautiful Kelowna, B.C. Co-founded and run by husband and wife team, Todd (creative) and Ashley (business) Ramsay, the studio operates from a new, 7,000 sq. ft., open concept, state-of-the-art, dark fibre, geothermal studio space. Focused on taking the world by storm – creatively and digitally, the Yeti team is one to watch.
9 Story Media Group is a leading content creator, marketer and distributor of kids & family focused intellectual property. Recognized around the world for best-in-class brands such as Daniel Tiger's Neighbourhood, Wild Kratts, Numb Chucks and Peg + Cat, 9 Story represents over 2,500 half hours of animated and live action programming, seen on some of the most respected international channels and platforms.  With one of North America's largest animation studios, 9 Story employs over 300 creative and production staff in its Toronto facility and has produced over 900 half hours of award-winning children's content. In 2015, 9 Story acquired the award winning animation studio Brown Bag Films, which employs almost 300 staff members across Dublin, Manchester and Los Angeles.  Brown Bag is recognized for producing leading animated children's series such as Octonauts, Doc McStuffins, Bing and Henry Hugglemonster.  9 Story is owned by senior management, ZMC (Zelnick Media Capital) and media entrepreneur Neil Court. www.9story.com
For further information:
Jennifer Ansley, Vice President, Marketing & Communications, 9 Story Media Group
+1 416 530-9900 ext 230, jennifera@9story.com
###