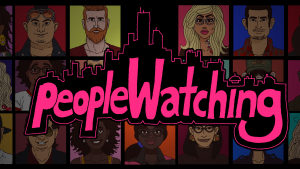 TORONTO, Feb 22, 2017 – For the second week in a row, Cracked.com, the popular humour and satire website viewed by millions of people each week has aired the latest episode of
peopleWatching
, an anthology-styled animated webseries based on author Winston Rowntree's hit web comic Subnormality.
People Watching deals with the lives of various 20 and 30-something city folk dealing with the everyday struggles, problems and neuroses that go along with, well, life. Much like the original comic, in this new animated series Rowntree (A Canadian known for his verbose writing and intricately drawn panels) touches on issues ranging from unpopular-popular music preferences and movie watching habits to slut shaming and transphobia.
In each
peopleWatching
episode the characters display a wide range of opinions and viewpoints on the weird and changing world around them while doing their best to cope with the myriad of situations that are well in and out of their control.
PeopleWatching is also the animated debut of Geoff Lapaire, co creator and director of Space Janitors (Geek & Sundry), PurePwnage (web, Showcase) as well as the full length PurePwnage motion picture.
"There's something in this series for everyone. Wherever and whatever you are, you'll find a unique take and an appreciation for the different people around you." says Lapaire.
The release schedule continues with Cracked releasing a new episode of peopleWatching each Wednesday in March right up until April 19th. That's 10 episodes of soul searching, pop-culture warping comedy and introspective dialogue delivered on YouTube to the entire world.
Editors Note: Not mentioned in the article is One World Animation, the Ottawa-based studio that produced the animation.