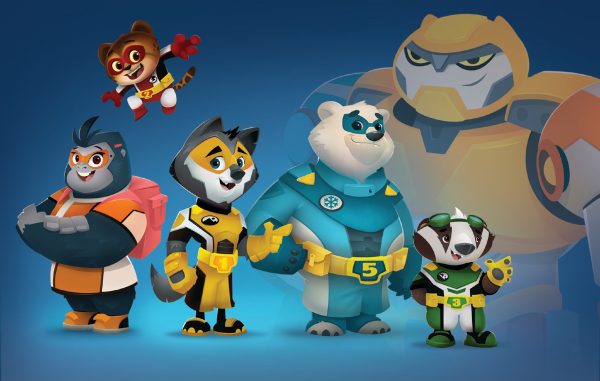 New Original Series Kingdom Force solidifies early-stage partnership with Fisher-Price as part of an innovative strategy for funding multiplatform IP
TORONTO – March 21, 2017 – Boat Rocker and Industrial Brothers today announced a master toy partnership with Fisher Price as part of a unique development strategy for their ambitious new original series, Kingdom Force.
Kingdom Force was created by Matt Fernandes of Industrial Brothers and will be co-produced by Industrial Brothers and Boat Rocker Studios.  In addition, Boat Rocker's Rights, Brands and Digital teams will oversee multiplatform IP development for the property. Boat Rocker's mandate will include distributing the series internationally and managing the merchandising and licensing for the brand on all platforms, as well as spearheading digital and brand initiatives that are being seeded into the property at inception. The early-stage partnership with Fisher-Price is a key component of this new strategy, which will allow Fisher-Price, Boat Rocker and Industrial Brothers to collaborate at the earliest stages of development with a view to maximizing opportunities for Fisher-Price's premiere toy line based on the property.
Kingdom Force is a team of fearless animals who fight disaster and protect their community with the help of their individual rescue vehicles that transform into a giant super robot. "We are thrilled to be working with the industry leaders at Fisher-Price and we look forward to expanding the show's development initiatives with our partners at Boat Rocker", said Matt Fernandes and Arthur Spanos, co-founders of Industrial Brothers.
"The opportunity to partner with Fisher-Price on an original series of this scale is a testament to our shared commitment to the unique creative qualities of Kingdom Force and to the world-class partnership that has developed between Industrial Brothers and Boat Rocker," said David Fortier and Ivan Schneeberg, Co-Executive Chairmen of Boat Rocker Media. "As Boat Rocker Media expands its mandate in 2017 to include enhanced development and production financing of original series, we see Kingdom Force as the perfect opportunity to showcase how the expertise of each of our divisions will bring this new series to a global audience on multiple platforms."
"We are committed to partnering with the best, and Kingdom Force is a great opportunity for us to bring to life original characters and a world that appeals to today's preschoolers," said Lauren DeFeo, Vice President Global Marketing, Fisher-Price Friends. "We're thrilled to soon be able to offer families across the globe a variety of ways to play out all the fun and action inspired by this new series."
About Boat Rocker
Boat Rocker Media is a global entertainment company that creates, produces and distributes premium media content for all platforms and develops brands and IP for worldwide monetization. Under its banner are Boat Rocker Studios (which includes Temple Street, Jam Filled and Radical Sheep), Boat Rocker Rights, Boat Rocker Brands, Boat Rocker Ventures and Boat Rocker Digital. A selection of its projects include The Bagel And Becky Show (Teletoon), Kody Kapow (Sprout, Zodiak Kids), The Loud House (Nickelodeon), Orphan Black (BBC AMERICA, Space), Killjoys (Syfy, Space), X Company (CBC), Being Erica (CBC, SOAPnet), The Next Step (Family Channel), Lost & Found Music Studios (Family Channel, Netflix), Wingin' It (Family Channel), Million Dollar Critic (W, BBC America), Over the Rainbow (CBC), Recipe to Riches (CBC, Food Network, Global), Canada's Next Top Model (CTV) and Darcy's Wild Life (NBC, Discovery Kids, Family Channel). For more information on Boat Rocker Media, please visit (www.boatrocker.com) and connect via (Twitter)<https://twitter.com/boatrocker> or (Facebook)<https://www.facebook.com/BoatRockerMedia>.
About Industrial Brothers
Industrial Brothers specializes in the creation of original and entertaining content with memorable characters that tell unique stories for kids of all ages. In addition to creating its own IP for global broadcasters, Industrial Brothers is currently in production on Dot! with The Jim Henson Company (CBC/Sprout), Top Wing with 9 Story Media Group (Nick Jr) and Remy and Boo with Boat Rocker Media (Sprout). Boat Rocker Media is a significant minority shareholder in Industrial Brothers and the two companies have an exclusive first look deal for Industrial Brothers' original productions. For more information on Industrial Brothers please visit www.industrialbrothers.com
About Mattel / Fisher-Price
Mattel is a creations company that inspires the wonder of childhood. Our mission is to be the recognized leader in play, learning and development worldwide. Mattel's portfolio of global consumer brands includes American Girl(r), Barbie(r), Fisher-Price(r), Hot Wheels(r), Monster High(r) and Thomas & Friends(r), among many others. Mattel also creates a wealth of lines and products made in collaboration with leading entertainment and technology companies. With a global workforce of approximately 31,000 people, Mattel operates in 40 countries and territories and sells products in more than 150 nations. Visit us online at www.mattel.com