Last updated on April 17, 2017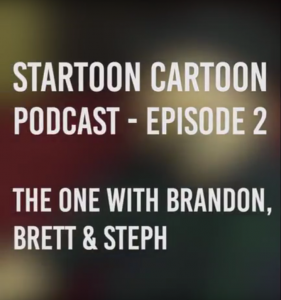 The second episode of the new Startoon Cartoon Podcast is online, and, as warned, I'm sharing it here. This week's episode is an almost 2 hour long conversation with 3 amazingly talented and pretty darn candid human beings.
Tinman Creative Studio's co-founder and creator of Super Science Friends, Brett Jubinville
Writer, comedian, and creator of Sprinkle and the Sweet Sugar Magics (in development at Radical Sheep), Stephanie Kaliner
Brandon Lane, production exec at Corus, and co-creator of Princess Sparkly Butt and the Hot Dog Kid
These guys are awesome, and I promise I'll learn to keep my mouth shut more as we make more of these things. But we did talk about all kinds of stuff, including character development, writer/artist work relationships, production/development in Canada, showrunning, Superman, Batman, Helm's Deep, over-achieving buzzkills, and what the hell is a "strong female character". There's a lot. If you want something to listen to/watch while you're working, this might be for you!
Check it out.