Last updated on April 12, 2017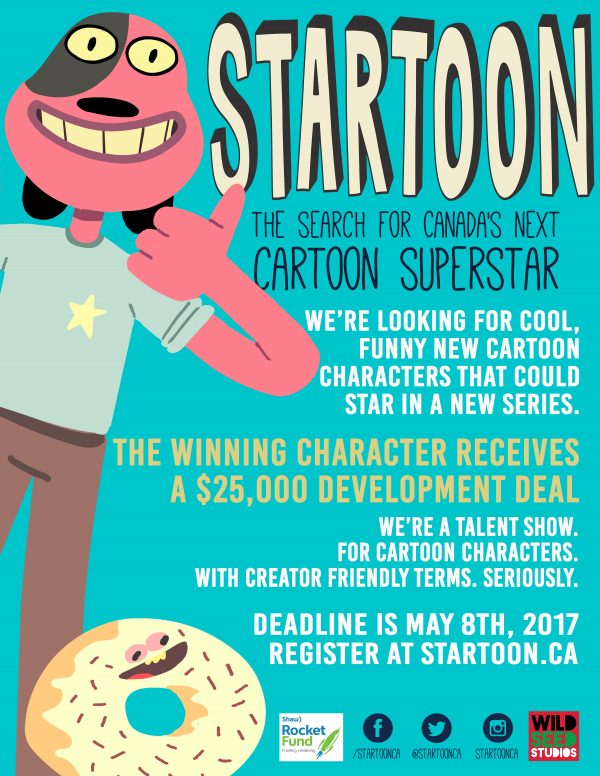 Alright. It's time to talk about Startoon. I always struggle a bit when it comes to cross-promotion. Startoon is my day job these days, so I get a little wobbly about promoting it here. But then I have to step back and tell myself to stop being a dummy and share what we're doing. Because we're doing something cool that I'd be covering if I wasn't the guy running it. So let's talk about it.
Startoon is a talent development initiative backed by the Shaw Rocket Fund. They fund stuff. It's right there in their name. It was thought up by a guy named Jesse Cleverly, who's the Creative Director at Wildseed Studios in the UK. Wildseed is a very cool company that sees themselves as a talent incubator. They work with a lot of young talent, and are the guys behind the show Counterfeit Cat. So that's impressive.
The idea was to set up what looks like a talent show for cartoon characters, and to help creators who might not otherwise be in a position to pitch their ideas. We're talking about artists, primarily. A lot of the broadcast industry tends to favour writers, in that pitching usually entails a lot of it. The artists out there aren't always that great at putting together the kinds of materials that usually work in a pitch. But what happens is that we end up losing a bunch of really great and talented people to places that know what to do with them, like Nickelodeon or Cartoon Network. Startoon is supposed to create an option for artist-driven projects here in Canada. That was the idea. And you know what? It worked.
We got 93 submissions. That's a lot. And then everybody who made it into the challenges made a ton of really cool stuff. The challenges were designed to workshop the characters, and help the creators flesh out their ideas. We had a crazy voting mechanism that helped push a wildcard through to the finals, and in the end, Vancouver-based animator Andy Greiling won a development deal worth 25 thousand dollars.
He's currently developing the show with the help of Wildseed, and we even optioned a second property from the competition, Joel Mackenzie's Tuff Pom.

All very exciting.
We also seem to have successfully taken the idea of a CONTEST, something that usually strikes fear into the hearts of creators everywhere, and made it not-terrible. Most of the time these things are traps, you hit "SUBMIT" and the people behind it snap up the rights to your idea. Not Startoon. Creators keep the underlying ownership.
So we're doing it again!
The site has been redesigned and we're splitting the whole thing into 2 separate shows. One show is aimed at kids. That's launching next week and it'll basically be a dumb/funny webshow hosted by a puppet and featuring weird animated bits by Noam Sussman. That's so we can build a kid audience to vote on the submissions. That's also where the talent show episodes will be.
On the other side, we're doing a Startoon Creators channel. This is the stuff that's aimed at the animation community. We're basically setting it up as a video podcast. There's also a bunch of tutorials about character development and software, and audio recording.
We've been on the road doing events in Ottawa and Vancouver and have recorded interviews with last year's winner, Andy Greiling, some of our participants from last year like Mat Hains, Charlie Richards, and Joel Mackenzie, and round table interviews with people like Tinman's Brett Jubinville (creator of Super Science Friends), Corus exec Brandon Lane (co-creator of Princess Sparkly Butt and the Hot Dog Kid), writer Stephanie Kaliner (creator of Sprinkle and the Sweet Sugar Magics), Phil Ivanusic (creator of League of Super Evil, Freaktown), Mike Geiger (Creator of Winston Steinburger and Sir Dudley Ding Dong), Dave Cooper (creator of the Bagel and Becky show and Nickelodeon's Pig, Goat, Banana, Cricket), and we even sat down and chatted with comedian Brent Butt, of Corner Gas! Turns out Brent went to Sheridan for about 5 minutes, but he's actually a pretty good artist on top of being a ridiculously funny guy. These videos will come out on Wednesday night, and they're meaty. The first one's over an hour. So they're great for listening to while you're working.

I'm going to share a ton of that stuff here on Canadian Animation Resources. It's the kind of content I've always wanted to provide here, and now I get to make it thanks to Startoon. I hope it makes for a valuable addition to all the job posts.
And I hope you don't get sick of hearing about it. I'm genuinely excited about what we accomplished last year, and I really think we're doing an even better job this year. The podcast and vids are exactly the kind of stuff I've always wanted to do, and they're exactly the kind of stuff I wish I'd had access to years ago.
And we're making cartoons! So this is the part where you guys go check it out: startoon.ca
If you've got that work neighbour, the one who's funnier than they think they are, who you know has that cool idea, but they just need a nudge, NUDGE THEM. Or maybe it's you, reading this right now. Sign up. Submit your character. There's no risk in submitting, and the payoff could be huge.
I'm crossing my fingers for another big year. Thanks guys.
Mike