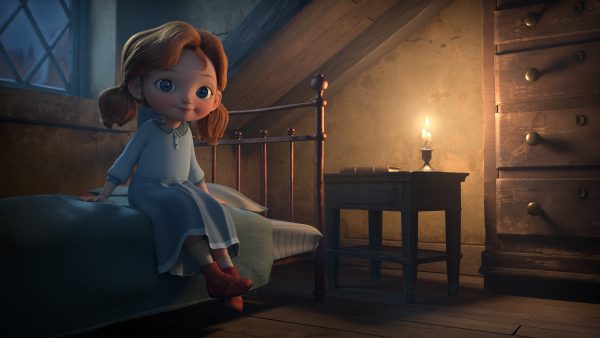 Based on the popular children's story from Pulitzer Prize winning author FRANK McCOURT.
Oscar Nominated RUTH NEGGA and Lucy O'Connell set to star.
Oscar nominated Brown Bag Films, a subsidiary of 9 Story Media Group, is pleased to announce that it is in production on the animated holiday special, ANGELA'S CHRISTMAS. The half hour CG film is based on Frank McCourt's only children's book inspired by a story his mother Angela told him as a child. McCourt won the Pulitzer Prize for his best-selling memoir, Angela's Ashes.
The film stars Oscar nominated Ruth Negga (Loving, Preacher) in the role of Angela's mother, and Lucy O'Connell (Oscar nominated Song of the Sea) as Angela. The film is written by Will Collins (Song of the Sea, Wolfwalkers) and Damien O'Connor (Anya, Doc McStuffins), and directed by Damien O'Conner. Ellen McCourt, Frank's widow, serves as an Executive Producer on the project and Malachy McCourt (Brewster's Millions, The January Man, One Life to Live), Frank McCourt's brother, and Irish-American actor, writer and politician, provides the narration.
Set in Ireland in the early 1900s, ANGELA'S CHRISTMAS is a funny, heart-warming and poignant story about the power of family and the innocent desire of a child to ensure everyone is safe, warm and loved at Christmas time.
The special is currently in early stages of animation and final lighting and is expected to wrap in early November. CG production is taking place at two-time Oscar nominated Brown Bag Films' Dublin based studio. 9 Story Distribution International is handling worldwide distribution. ANGELA'S CHRISTMAS was developed with the support of the Irish Film Board and produced with the support of the Broadcasting Authority of Ireland and RTE.
"I am so thrilled to see this beloved story come to life as an animated film," said Ellen McCourt. "Brown Bag Films' unparalleled artistry in animation, combined with their Irish roots make them the perfect partner to tell Frank's children's classic in a new way."
"Angela's Christmas is such a special story," said Darragh O'Connell, Creative Director, Brown Bag Films. "McCourt has a way of capturing the mind of young Angela that will have you laughing and crying. The story lends itself beautifully to animation and we are so excited to share this with audiences around the world."
About Brown Bag Films
Brown Bag Films are one of Europe's most exciting, original and successful creative-led animation studios. After 23 years in business, their Dublin-based headquarters continue to produce cutting-edge animation for the international market, bagging numerous awards along the way. Brown Bag Films' much-loved TV shows are viewed by millions of children worldwide and include Doc McStuffins, Henry Hugglemonster, Bing, Peter Rabbit, Olivia, Noddy in Toyland, and Octonauts. With a second studio in Manchester and an office in LA, Brown Bag Films are committed to producing the highest-quality, cross-platform animation with strong stories and engaging characters. Founded in 1994 by Cathal Gaffney and Darragh O'Connell, Brown Bag Films have worked with some of the world's biggest entertainment names, including Disney, Nickelodeon, BBC, Amazon Studios, Acamar Films and Silvergate Media. www.brownbagfilms.com
About 9 Story Media Group
9 Story Media Group is a leading content creator, producer and distributor of kids & family focused intellectual property. Recognized around the world for best-in-class brands such as Daniel Tiger's Neighbourhood, Wild Kratts, Numb Chucks and Peg + Cat, 9 Story represents over 2,500 half hours of animated and live action programming, seen on some of the most respected international channels and platforms.  With one of North America's largest animation studios, 9 Story employs over 300 creative and production staff in its Toronto facility and has produced over 900 half hours of award-winning children's content. In 2015, 9 Story acquired the award winning animation studio Brown Bag Films, which employs almost 300 staff members across Dublin, Manchester and Los Angeles.  Brown Bag is recognized for producing leading animated children's series such as Octonauts, Doc McStuffins, Bing and Henry Hugglemonster.  9 Story is owned by senior management, ZMC (Zelnick Media Capital) and media entrepreneur Neil Court. www.9story.com