Key commitments include: 4 percent of NFB workforce to identify as Indigenous by 2025; Indigenous-led production to represent a minimum of 15 percent of overall production spending; and the creation of protocols/guidelines for production and distribution and use of archives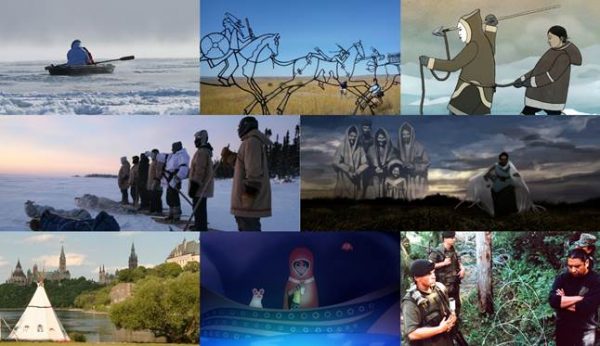 The National Film Board of Canada has announced a three-year plan outlining a series of commitments that respond to the work and recommendations of the Truth and Reconciliation Commission of Canada (TRC) and Indigenous creators' longstanding concerns about systemic inequities in the existing Canadian production landscape.
As Canada's public producer and distributor of documentary, animation and interactive/immersive experiences that reflect Canada and Canadian perspectives to Canadian and global audiences, the NFB has been producing works by First Nations, Métis and Inuit directors since 1968–a total of more than 280 titles by Indigenous filmmakers. This enduring commitment to working with Indigenous storytellers and making these films broadly accessible to Canadian audiences, as well as the relationships built with Indigenous filmmakers, communities and partners over the course of 49 years, form the foundation for the NFB's plan.
Developed in collaboration with an Indigenous advisory group, the plan contains 33 commitments grouped under four main areas:
Institutional Transformation
Industry Leadership
Production
Distribution, Collection Management and Education
Highlights include a commitment to achieving representational parity in the NFB workforce by 2025; an immediate commitment to ensuring 15 percent of production spending is on Indigenous-directed projects; and a commitment to working with Indigenous partners to develop protocols/guidelines for the production and distribution of works on Indigenous content/themes as well as protocols for access to and reuse of archives.
"The NFB acknowledges its enormous debt to the first generation of Indigenous filmmakers at the NFB, first and foremost Alanis Obomsawin," said Claude Joli-Coeur, Government Film Commissioner and Chairperson of the NFB. "Alanis joined the NFB in 1967 and fought against an often hostile environment to create an unparalleled body of work that has fundamentally recast understandings of Indigenous realities and relationships with settler society. The struggles of Alanis and others to claim a space for Indigenous voices within the NFB, on Canadian screens and within the broader Canadian production industry constitute the foundations for the commitments we are making today."
In this first year of the plan, the NFB's key priorities will include:
developing a strategic hiring plan to lay the groundwork for the NFB's commitment to workforce equity;
providing cultural-competency training for all staff;
ensuring that Indigenous-directed projects at the NFB represent a minimum of 15 percent of overall production spending;
developing learning resources around titles in the NFB's Indigenous collection (to be released in 2018);
developing production, distribution and archival protocols/guidelines;
further developing community-based audience-engagement strategies for connecting new and collection works to Indigenous and non-Indigenous audiences;
making the NFB's Indigenous collection more accessible via a new destination on NFB.ca.
The full list of commitments is posted on the following website: nfb.ca/indigenous-action-plan/
To implement these commitments, the NFB will engage Indigenous organizations and experts in working-group discussions on key areas such as education, production, archives, and treatment of the collection. Our advisory group will assist in identifying the appropriate experts and filmmakers to ensure a representative approach (e.g., across the Nations, across the generations, and across the disciplines). This process will count on broad participation by NFB staff in all divisions.
"Delivering on the full range of commitments included in this plan is a structured starting point that will lead to long-term and sustained transformation. Most of the actions will be implemented within three years, others will take more time, but we commit to sharing this strategy and key priorities publically?making the processes and results transparent. We will meet with our advisory group on an annual basis over the next three years to discuss progress and establish annual goals and priorities," said Joli-Coeur. "I want to thank our advisory members for their commitment to working with us throughout this process of transformation, and all the Indigenous filmmakers and partners, past and present, who have worked at and with the NFB over the years."
The current members of the NFB's Indigenous Advisory Group are:
Alanis Obomsawin, Producer-Director & Cultural Attaché, NFB
Tasha Hubbard, Filmmaker & Assistant Professor, University of Saskatchewan
Elle-Máijá Tailfeathers, Filmmaker
Lisa Jackson, Filmmaker
Jason Ryle, Artistic Director, imagineNATIVE Film + Media Arts Festival
Monika Ille, Executive Director, Programming, APTN
Nancy Henry, Instructional Coach, FNMI Education, Ottawa-Carleton School Board
Elizabeth Logue, Director, Inuit Relations Directorate, INAC
Camille Callison, Librarian, Archivist and Anthropologist
Heather Igloliorte, Professor of Aboriginal History & Arts Curator
About the NFB
The NFB is Canada's public producer of award-winning creative documentaries, auteur animation, and groundbreaking interactive stories, installations and participatory experiences. NFB producers are deeply embedded in communities across the country, working with talented artists and creators in production studios from St. John's to Vancouver, on projects that stand out for their excellence in storytelling, their innovation, and their social resonance. NFB productions have won over 5,000 awards, including 18 Canadian Screen Awards, 17 Webbys, 12 Oscars and more than 90 Genies. To access many of these works, visit NFB.ca or download the NFB's apps for mobile devices and connected TV.