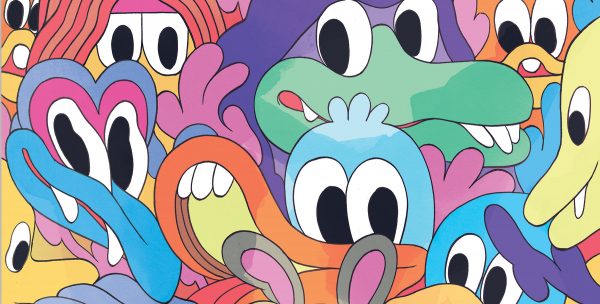 This is happening.

Official Trailer – 11th Annual TAIS Animation Showcase from TAIS on Vimeo.
11th Annual TAIS Animation Showcase
Saturday July 29th – 7:00PM
Geary Lane – 360 Geary Ave. Toronto
$10 advance / $12 door / $8 door TAIS members
Advance tickets – HERE
Bringing the Best Independent Canadian and International Animation to Toronto!  
On Saturday, July 29th, the Toronto Animated Image Society (TAIS) is thrilled to present a summer night of animated dreams: two 60 minute programmes of short animated films, the results of the 2017 Anijam competition, and a new interactive work in VR by artist Zeesy Powers
Featuring 20 short animated films, all created in the last two years, the finalists in this year's programme cover a variety of genres and stylistic approaches to the animation art form. Including ethereal and spooky dreamscapes, car chases, evocative abstraction, environmental issues, humour, sentimentality, and themes that speak to a positive Queer future, this year's programme features narrative and experimental films from 9 different countries: Canada, USA, Costa Rica, UK, China, Scotland, Switzerland, Spain, and Taiwan.
This programme is for mature audiences only.
Awards will be given! Selected by a guest jury of Canadian animation gurus/filmmakers/artists: Michael Fukushima, Adrienne Crossman, and Nicolas Sassoon, the 'Grand Prize – Best of the Showcase' and the 'Jury's Best Anijam' awards will be announced. The audience also gets a chance to have a say, selecting an 'Audience Choice – Short Film' and 'Audience Choice – Best Anijam'.
Also featured at the Showcase is TAIS' BIG EYES Sharp Teeth Anjiam competition. With 20 entries this year, these 10-second animations bite off more than they can chew, and hold you in a piercing glare and won't let you look away. With wide-eyed wonder we're excited to watch this year's competition! It will be fierce!
And last but not least, TAIS 2017 Canadian Artist in Residence, Zeesy Powers, will present her work for Virtual Reality entitled "The Could Be You" as part of the event. Produced in TAIS studios, this interactive VR experience puts participants in the body of a 90-year-old female in the middle of techno-dystopic environment.
The annual Animation Showcase is produced by the Toronto Animated Image Society, an artist-run, non-profit charitable organisation dedicated to exploring and promoting the art of animation through production, screenings, workshops and exhibitions, and offering affordable access to space and equipment for artists who make animated films within contemporary art practices. TAIS is dedicated to the art of independent animation.