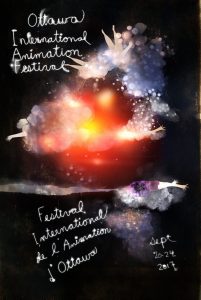 The 2017 edition of the Ottawa International Animation Festival is coming up fast, and they've just put out their open call for volunteers. It's an amazing experience for anyone looking to get a foot in the door in the world of animation. You'll meet tons of great people, get access to the festival itself, and Kelly and her crew are pros, you'll learn a lot.
Here you go:
The 41st Ottawa International Animation Festival is approaching quickly, and we would love to have you be part of this year's Volunteer Team!  
Our 2017 festival runs from September 20-24th, and we have tons of volunteer positions available, including Office Assistant, Aniboutique (merch), Chez Ani Café (barista/bartender), Screenings & Special Events (set up, greeting, reception, ticket taking, security), and more!  Further details about our volunteer opportunities are available in our newly updated Volunteer Positions Guide and our Volunteer Handbook, as well as on the Volunteer page of the OIAF website.
If you are already registered with the OIAF, you can apply for volunteer positions by logging on to the website (animationfestival.ca) with your existing e-mail and password and completing the 2017 form under "Volunteer Status."  New to volunteering?  Register for an account on our website, confirm via e-mail, and log back on to access the form.  Please note that the "profile image" requested will be printed on your Volunteer Pass, and that a clear headshot is required (no filters, mirror shots, or editing please).
Once your form has been processed, you will receive your shift schedule.  Adjustments can be made, so feel free to contact me with any concerns or comments about availability – the knowledge of repeat volunteers is invaluable so we are happy to give you as many shifts as we can!  A commitment of two shifts entitles you to receive a free Volunteer Pass.  Be sure to sign up soon as some positions fill up quickly!