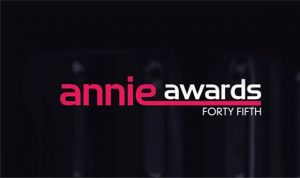 It was a big weekend for animation. The 45th annual Annie Awards happened Saturday night in LA, and the animation world turned up. They live streamed the whole affair, and it's available for viewing on Youtube.

The Annies are the big awards for mainstream animation. They're a black tie affair, put on by ASIFA-Hollywood, and they describe themselves as their most glamorous event. They're a pretty big deal, especially when you win one.
You can check out the winners via the Annie Awards site. I don't actually like how they have it set up, you go to the nominees list, then click through in the individual categories for the winners. I'll post the full list at the bottom.
Coco cleaned up. No big surprise. Disney/Pixar tend to dominate, and this was actually a very good movie. Thankfully, there's a best Independent Feature category, and the Breadwinner won that one.
I'm personally pissed about Glen Keane's Dear Basketball winning for best short. No slight to Mr. Keane, or the quality of his film, but I've got issues with Kobe Bryant.
There's a ton of Canadians represented in the nominees, and even a few winners. In the Juried Awards Category, Wendy Tilby and Amanda Forbis were recognized with the Windsor McCay Award for career contributions to the art of animation, and The Special Achievement Award recognizing the unique and significant impact on the art and industry of animation was presented to Studio MDHR Entertainment for its 1930s inspired wonder-game Cuphead.
Congrats to everybody. Awards are funny things, and yes, there's always a lot of politics that go into them, but let's be honest, anyone making animation works their asses off, so hats off to you all for getting here.
Except for you, Kobe Bryant. Get off the damn stage.
Production Categories
Best Animated Feature
Coco (Pixar Animation Studios)
Best Animated Feature — Independent
The Breadwinner (Cartoon Saloon/Aircraft Pictures/Melusine Productions)
Best Animated Special Production
Revolting Rhymes (Magic Light Pictures)
Best Animated Short Subject
Dear Basketball (Glen Keane Productions, Kobe Studios, Believe Entertainment Group)
Best Animated Television/Broadcast Commercial
June (Broad Reach Pictures/Chromosphere/Lyft)
Best Animated Television/Broadcast Production For Preschool Children
Octonauts, "Operation Deep Freeze" (Vampire Squid Productions Limited/Brown Bag Films)
Best Animated Television/Broadcast Production For Children
We Bare Bears, "Panda's Art" (Cartoon Network Animation Studios)
Best General Audience Animated Television/Broadcast Production
Rick and Morty, "Pickle Rick" (Williams Street Productions)
Best Student Film
Poles Apart (Paloma Baeza; students: director: Paloma Baeza, producer: Ser En Low, all student crew)
Individual Achievement Categories
Outstanding Achievement for Animated Effects in an Animated Production
Coco (Pixar Animation Studios)
Outstanding Achievement for Character Animation in an Animated Television / Broadcast Production
Trollhunters, "Homecoming" (DreamWorks Animation Television)
Outstanding Achievement for Character Animation in an Animated Feature Production
Coco (Pixar Animation Studios)
Outstanding Achievement for Character Animation in a Live Action Production
War for the Planet of the Apes (Chernin Entertainment, TSG Entertainment, River Road Entertainment, 20th Century Fox)
Outstanding Achievement for Character Animation in a Video Game
Cuphead (StudioMDHR)
Outstanding Achievement for Character Design in an Animated Television / Broadcast Production
Samurai Jack, "XCVI" (Adult Swim)
Outstanding Achievement for Character Design in an Animated Feature Production
Coco (Pixar Animation Studios)

Outstanding Achievement for Directing in an Animated Television / Broadcast Production
Disney Mickey Mouse, "The Scariest Story Ever: A Mickey Mouse Halloween Spooktacular!" (Walt Disney Television Animation)
Outstanding Achievement for Directing in an Animated Feature Production
Coco (Pixar Animation Studios)
Director: Lee Unkrich, Co-Director: Adrian Molina
Outstanding Achievement for Music in an Animated Television / Broadcast Production
Disney Mickey Mouse, "The Scariest Story Ever: A Mickey Mouse Halloween Spooktacular!" (Walt Disney Television Animation)
Composer: Christopher Willis
Outstanding Achievement for Music in an Animated Feature Production
Coco (Pixar Animation Studios)
Composer: Michael Giacchino
Composer/Lyricist: Kristin Anderson-Lopez
Composer/Lyricist: Robert Lopez
Composer: Germaine Franco
Lyricist: Adrian Molina
Outstanding Achievement for Production Design in an Animated Television / Broadcast Production
Samurai Jack, "XCIII" (Adult Swim)
Outstanding Achievement for Production Design in an Animated Feature Production
Coco (Pixar Animation Studios)
Outstanding Achievement for Storyboarding in an Animated Television / Broadcast Production
Disney Mickey Mouse, "Bee Inspired" (Walt Disney Television Animation)
Outstanding Achievement for Storyboarding in an Animated Feature Production
Coco (Pixar Animation Studios)
Outstanding Achievement for Voice Acting in an Animated Television / Broadcast Production
SpongeBob SquarePants (Nickelodeon)
Voice Actor: Tom Kenny
Character: SpongeBob SquarePants
Outstanding Achievement for Voice Acting in an Animated Feature Production
Coco (Pixar Animation Studios)
Cast: Anthony Gonzalez
Character: Miguel
Outstanding Achievement for Writing in an Animated Television / Broadcast Production
Rick And Morty, "The Ricklantis Mixup" (Williams Street Productions)
Writer: Ryan Ridley
Writer: Dan Guterman
Outstanding Achievement for Writing in an Animated Feature Production
Coco (Pixar Animation Studios)
Writer: Adrian Molina
Writer: Matthew Aldrich
Outstanding Achievement for Editorial in an Animated Television / Broadcast Production
Samurai Jack, "XCIII, XCIV, XCIX" (Adult Swim)
Outstanding Achievement for Editorial in an Animated Feature Production
Coco (Pixar Animation Studios)