Call for Submissions: Vancouver Short Film Festival Invites British Columbia Residents to Submit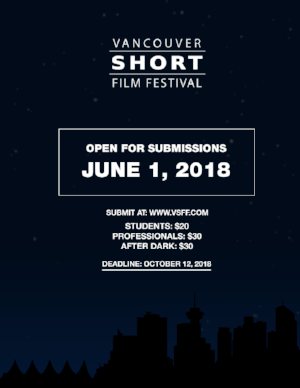 Vancouver, BC (May 22nd, 2018) – Calling all short filmmakers around BC: The Vancouver Short Film Festival (VSFF) is seeking submissions for its 9th edition, which will run January 25-26, 2019 at Vancity Theatre. Short format filmmakers from all around British Columbia are invited to submit their work starting June 1st.
After a successful 2018 run, VSFF aims to increase submissions and showcase even more BC talent at the festival this year, and urges storytellers from all over the province to share their work. The festival provides an arena where local BC  filmmakers, including students, can screen their short films in public, support their fellow colleagues, and aims to strengthen and foster British Columbia's film identity – a province that has become renowned for its support on large international productions.
"We are very excited to be back again, celebrating filmmakers from all over BC," said VSFF Co-Director Marena Dix. "Last year was great – with three sold out shows and a large audience attendance. As we grow, we are looking to expand our reach, bringing forward even more talent from around the province to showcase in 2019."
Last year, attendance at the festival was at 80 – 100% capacity, and the festival gave away over $10,000 worth of prizes. VSFF will also bring back its genre-based After Dark screening after it's successful trial run in 2018.
This year, VSFF once again welcomes audiences to experience innovative and original films and connect with local emerging and established professionals. Film submission guidelines are available at http://www.vsff.com/.
Let's get social! Follow VSFF on Twitter, and Facebook and Instagram:
Twitter: @VSFF
Facebook: @VanShortFilmFest
Instagram: @VanShortFilmFest
About VSFF
The Vancouver Short Film Festival (VSFF) is committed to the celebration of the vibrant community of short film, video, and animation artists on the Canadian West Coast. We hope to build ties between emerging and established professionals, and provide an arena where all short filmmakers, including students, can screen their films in public and support their fellow colleagues. Our ultimate goal is to connect short filmmakers to a broader audience in order to grow the local film industry.