Last updated on June 7, 2018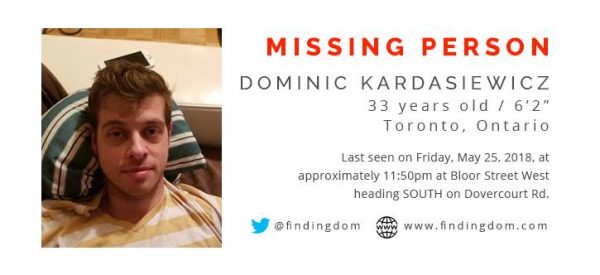 We shared some troubling news recently about a member of our animation community who went missing a week and a half ago. Dominic Kardasiewicz was found a few days ago, and sadly, he has passed on.
A gofundme campaign that was launched to help pay for the search efforts has now been aimed at helping to settle his affairs.
From the Help Us Find Domenic Kardasiewicz Facebook group:
For those who are not already aware, Dominic Kardasiewicz has been located by the police and it is with a heavy heart that we announce his passing.
Thank you to everyone who donated and shared this campaign. Your support during this difficult time has not gone unnoticed.
Funds raised to help assist in finding Dominic will be presented to his family this week. They have expressed their desire to use the funds in order to help with his final expenses.
Please continue to share this campaign in a post or tweet https://www.gofundme.com/help-us-find-dominic-kardasiewicz with family and friends.
The campaign will end Friday, June 8, 2018.
There will be a service open to the public this Friday.
To let everyone know, there will be a visitation service held for Dominic this Friday, June the 8th between 6pm and 9pm. It will be held at the Neweduk Chapel of Turner & Porter funeral directors at 1981 Dundas Street West, Mississauga, at the corner of Erin Mills Parkway and Dundas. It will be open to all of his friends, family, family friends and those wishing to pay their respects.
This is sad and tragic. Dominic was so well liked, and the outpouring of support in his search is a testament to the impact he had on the lives around him. He'll be missed.