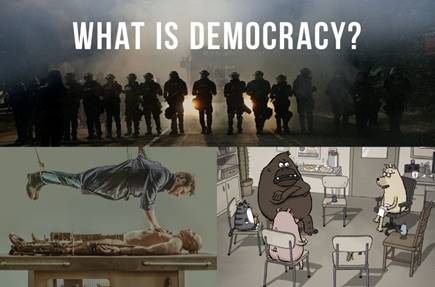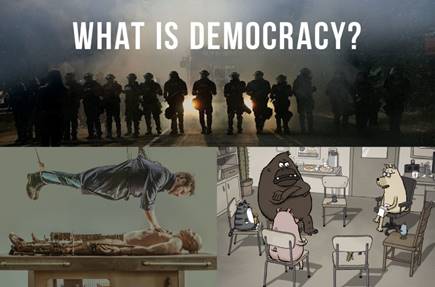 August 1, 2018 – Toronto – National Film Board of Canada (NFB)
Coming at a moment of profound political and social crisis, Astra Taylor's latest National Film Board of Canada www.nfb.ca (NFB) feature documentary, What Is Democracy?, makes its North American premiere at the 2018 Toronto International Film Festival. It will be joined at TIFF by two new NFB animated shorts: Animal Behaviour, from the Oscar-winning animation duo of Alison Snowden and David Fine, who just received the Grand Prix at Rio de Janeiro's Anima Mundi; as well as The Subject, the latest stop-motion marvel from Quebec's Patrick Bouchard.
What Is Democracy? (119 min.), North American premiere
If we want to live in democracy, we must first ask what the word even means. Astra Taylor's What Is Democracy? is an idiosyncratic, philosophical journey spanning millennia and continents: from ancient Athens' groundbreaking experiment in self-government to capitalism's roots in medieval Italy; from modern-day Greece grappling with financial collapse and a mounting refugee crisis to the United States reckoning with its racist past and the growing gap between rich and poor. Celebrated theorists Silvia Federici, Cornel West, Wendy Brown, and Angela Davis are joined by trauma surgeons, activists, factory workers, asylum seekers, former prime ministers and others, in a film that connects past and present, the emotional and the intellectual, the personal and the political, in order to provoke critical dialogue about our future.
Taylor is a filmmaker, writer, and political organizer whose credits include the NFB documentary Examined Life (TIFF 2008) and Zizek! (TIFF 2005). The author of the American Book Award-winning The People's Platform: Taking Back Power and Culture in the Digital Age, and co-founder of the Debt Collective, Taylor will have a new book, Democracy May Not Exist, but We'll Miss It When It's Gone, out from Metropolitan Books in early 2019.
What Is Democracy? is produced by Lea Marin and executive produced by Anita Lee for the NFB's Ontario Studio in Toronto.
Animal Behaviour (14 min.), North American premiere
Dealing with what comes naturally isn't easy, especially for animals. In Animal Behaviour, five animals-including a leech who suffers from separation anxiety and a bird with guilt issues-meet regularly to discuss their inner angst in a group therapy session led by Dr. Clement, a canine psychotherapist. This hilarious yet emotional short deals with animal issues that are not unlike our own. Should we learn and adapt, or should others just accept our true nature?

Animal Behaviour, David Fine & Alison Snowden, provided by the National Film Board of Canada
Created with digital hand-drawn animation, Animal Behaviour marks the return of Vancouver-based animators Alison Snowden and David Fine to the NFB, 25 years after their Academy Award-winning 1993 NFB/Snowden Fine Animation/Channel 4 co-production Bob's Birthday, which inspired the acclaimed Comedy Central/Channel 4/Global TV series Bob and Margaret. Snowden and Fine had previously collaborated on two other Oscar nominees: the NFB short George and Rosemary (1987) and Snowden's student film, Second Class Mail (1984).
Animal Behaviour is produced and executive produced by Michael Fukushima for the NFB's Animation Studio in Montreal.
The Subject (10 min.), Ontario premiere
The act of creating is about delving into the deepest part of one's self. Artists engage in a process of introspection from which they never emerge unscathed-digging and searching within themselves, seeking the source of their fears and, in so doing, yearning to find liberation.
In The Subject, stop-motion master Patrick Bouchard dares to place himself on centre stage, confronting his alter ego in the form of a life-size cast of his own body-beginning a physical confrontation between human and clay puppet. Pierced, slashed, chiselled, the body yields its secrets, revealing itself to be an intricate mechanism as it disgorges various objects: a microscope affording views of coursing vital fluids, or a fantastical merry-go-round evoking pleasure and ecstasy-but also fear.

The Subject, Patrick Bouchard, provided by the National Film Board of Canada
Selected for the 50th Directors' Fortnight at Cannes, The Subject is the fifth NFB film by Bouchard, who's a three-time winner of Quebec's Prix Iris, for The Brainwashers (2003), Dehors novembre (2005) and Bydlo (2013). The Subject is produced and executive produced by Julie Roy for the NFB's French Animation Studio in Montreal.
About the NFB
The NFB is Canada's public producer of award-winning creative documentaries, auteur animation, interactive stories and participatory experiences. NFB producers are embedded in communities across the country, from St. John's to Vancouver, working with talented creators on innovative and socially relevant projects. The NFB is a leader in gender equity in film and digital media production, and is working to strengthen Indigenous-led production, guided by the recommendations of Canada's Truth and Reconciliation Commission. NFB productions have won over 7,000 awards, including 20 Canadian Screen Awards, 18 Webbys, 12 Oscars and more than 100 Genies. To access NFB works, visit NFB.ca or download its apps for mobile devices.