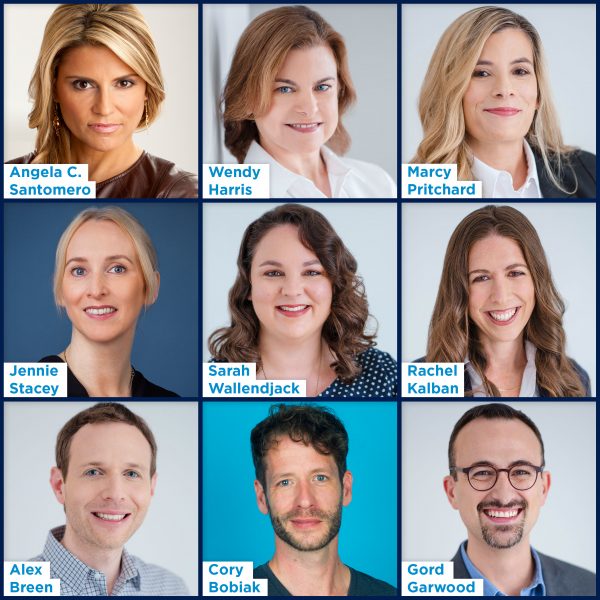 9 Story Strengthens Creative Affairs with New Appointments and Key Promotions
Additional promotions within Brown Bag Films, 9 Story Distribution International, and Marketing also announced
Toronto, Canada – 9 Story Media Group today announced structural and management changes to its Creative Affairs team, welcoming new additions and promoting top talent to key positions under the new leadership of Chief Creative Officer Angela C. Santomero. The changes to the division have been designed to serve the company's new scope, with creative in New York at the helm, following its acquisition of Out of the Blue Enterprises earlier this year. Additional changes were made to bolster the leadership of 9 Story's award-winning studio, Brown Bag Films, its international distribution arm, 9 Story Distribution International, and 9 Story's marketing department.
"9 Story is a global leader in children's content and this exceptional team is well poised to take our creative to the next level," said Santomero. "Our entire creative team is the best in the business. Together we have created and will continue to create visionary, ground breaking shows for kids that elevate what children's media is to the world. Already we have secured high profile creative development projects that we are excited to announce soon."
"9 Story's newly appointed creative affairs team has a tremendous collective track record in children's media," said Vince Commisso, President and CEO for 9 Story Media Group. "Under Angela's leadership, this talented team will work closely with our studio, Brown Bag Films, and will be invaluable to realizing our creative vision going forward."
Wendy Harris is promoted to the newly created role of SVP, Content and Creative Affairs. She will report to Santomero and be based out of 9 Story's New York office. Harris will direct the creative content process for development, production and current series to ensure that all properties realize the company's creative vision while meeting the company's business objectives. Harris is an award-winning children's television executive producer and writer, starting on the original Blue's Clues where she eventually became the series' Executive Producer and later Co-Creator and Executive Producer of the spin-off Blue's Room.  Harris has been with Out of the Blue since its inception in 2005, serving as Co-Creator and Executive Producer of Super Why, Creative Galaxy and Executive Producer on Wishenpoof.
Marcy Pritchard joins 9 Story's New York team in the newly created role of SVP, Business and Creative Affairs, reporting to Santomero. Pritchard will work closely with Santomero to grow the 9 Story USA office and streamline integration efforts with 9 Story's Toronto and Dublin studios. Pritchard will lead finance and operations in New York to resource and support the creative development, production, and distribution of high-quality children's content. Pritchard has been working in children's television since the 90s, starting on the original Blue's Clues series as Supervising Producer, continuing on at Nickelodeon to produce the Blue's Room spin-off, followed by the current hit series Team Umizoomi. After years on the production side, she moved into the role of VP, Development & Series Production at Nickelodeon, where she managed more than 15 animated and live-action current series, development projects, and digital initiatives.
Jennie Stacey is promoted to VP, Development, reporting to Santomero. Based in Dublin, Stacey will lead the company's overall development efforts for original television series. Stacey has spearheaded many of Brown Bag's biggest hits, including Henry Hugglemonster, Angela's Christmas and Sadie Sparks for Disney Channel, which have flourished under her leadership and creativity. Stacey first joined Brown Bag Films in 2008, after roles with RTE and Universal Pictures International in London.
Sarah Wallendjack steps into the new role of VP, Production & Development NY, reporting into Harris. Wallendjack will work with the Creative Affairs team to oversee projects from development through production. Wallendjack has been an integral part of the Out of the Blue creative team, overseeing production as the Executive Producer of Super Why, Daniel Tiger's Neighborhood, and Charlie's Colorform City.
Rachel Kalban will continue in her vital role as VP, Research and Curriculum, reporting to Harris. Kalban, a child development expert with a Master's degree in Developmental Psychology from Columbia University's Teachers College, spearheads New York's groundbreaking formative research process. She is involved in all projects, to develop curriculum-driven brands that enrich the lives of children and families. Kalban has been a key role in the development and success of Super Why, Daniel Tiger's Neighborhood, Creative Galaxy, Wishenpoof and Charlie's Colorform City.
Alex Breen has been promoted to VP, Interactive, reporting in to Pritchard. As Vice President of Interactive at 9 Story US, Breen will oversee the creation and distribution of groundbreaking interactive content, focusing on 9 Story properties with inherent digital potential and emerging technologies. Breen is an award-winning producer with over 13 years of experience in digital media, apps and production management Out of the Blue. Alex credits also include writing the tentpole SUPER WHY Comic Book: Attack of the Eraser episode, which appeared in movie theaters across the U.S.
Changes to Brown Bag Films are as follows:
Changes were also made to bolster the management and creative leadership at 9 Story's award-winning studio, Brown Bag Films, which works closely with 9 Story's Creative Affairs team. Darragh O'Connell, co-founder of Brown Bag Films is now Group Creative Director for the global studio, while Cory Bobiak (Peg + Cat, Xavier Riddle and the Secret Museum), a long-time director at Brown Bag Films / 9 Story Media Group is promoted to the newly created role of Creative Director (Toronto). Bobiak will report into O'Connell and oversee creative direction within the Toronto studio. Additional promotions include Gillian Higgins to SVP, Production (Europe), Louise Cornally to SVP, Finance and Business Affairs and John Brady to VP Production Technology. Higgins, Cornally and Brady are based in Dublin and report to Cathal Gaffney (COO).
Changes to 9 Story Distribution International are as follows:
9 Story is also pleased to announce several promotions at its international distribution company, 9 Story Distribution International. Alix Wiseman is promoted to SVP, Distribution & Acquisitions, now overseeing global distribution and acquisitions efforts from the operation's Dublin headquarters and reporting to Natalie Osborne (CCO). Stephen Kelley is promoted to VP, Distribution (EMEA) and Federico Vargas is promoted to VP, Distribution overseeing Asia Pacific, Latin America & Iberia. Both Kelley and Vargas will continue to be based in Dublin and report to Wiseman.
Changes to 9 Story's Marketing Team are as follows:
9 Story has also made some changes to its marketing department, including promoting Jennifer Ansley to SVP, Marketing & Communications. Gord Garwood has been promoted to the newly created position of VP Creative Services, overseeing corporate visual strategy, graphic design and branding. Garwood will be working closely with production and specializing in style guide creation, consumer products & interactive design. He will ensure consistent branding, shared asset creation and resource efficiencies across all platforms. He will be heavily involved in establishing innovative design and approaches for interactive and new product technologies. Garwood will be reporting to Jennifer Ansley and will continue to be based out of the 9 Story USA office.
About 9 Story Media Group
9 Story Media Group is a leading creator, producer and distributor of kids and family focused intellectual property. Its award-winning animation studio, Brown Bag Films, is recognized around the world for best-in-class brands such as Doc McStuffins, Daniel Tiger's Neighborhood, Octonauts, Wild Kratts, Peter Rabbit and The Magic School Bus: Rides Again. The company's international distribution arm, 9 Story Distribution International based in Dublin, represents 3,500 half-hours of animated and live-action programming, seen on some of the most respected international channels and platforms. Its in-house consumer products division, 9 Story Brands, builds international entertainment brands for kids, with expertise across creative, brand marketing, and licensing. With facilities in Toronto, Dublin, Manchester and New York, 9 Story Media Group employs nearly 700 creative and corporate staff. www.9story.com