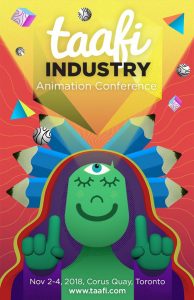 TAAFI INDUSTRY 2018 runs from November 3-4
Toronto, ON (October 24, 2018) – Today, the Toronto Animation Arts Festival International (TAAFI) released the full official program for TAAFI INDUSTRY 2018 at Corus Quay in Toronto. The event runs from November 2-4. This one-of-a-kind conference hosts over 50 animation industry professionals and over 22 sessions on prime time content, the evolution of character design, Canadian feature films production, stop motion techniques, VFX behind the scenes and much more! TAAFI INDUSTRY 2018 will include the special events The Big Pitch, Pitch-a-Palooza and the Nelvana Bouncing Ball party.
The passes are now available online at taafi.com/tickets
"We are absolutely thrilled about the state of the animation industry, today," said Ben McEvoy, Executive Director and Co-Founder, TAAFI. "The conference reflects a plethora of animation industry veterans, leaders, and talent who have navigated changes in the industry. As well, these leaders have developed some of the best animated content for television, film and digital—especially within the Canadian landscape."
Featured programs include …
The Next Generation (of Toronto Feature Films)
This is an in-depth, behind the scenes conversation with Joe Ksander and Kevin R. Adams, directors of the Netflix hit, NEXT GEN, one the year's most exciting independent animated feature films, produced right here in Toronto …
Richard Chen, Art Director at Tangent Entertainment
Kevin R. Adams, Writer & Director of NEXT GEN
Joe Ksander, Writer & Director of NEXT GEN
A VIP Exclusive Fireside Chat with Dan Haskett
Exclusive to our VIP passholders, Dan Haskett will lead a fireside chat with a lively Q&A included. Growing up in the 50s and 60s, Dan Haskett was exposed to a plethora of historic animated content on television …
Dan Haskett, veteran Disney animator & designer.
New Realities
This program explores the mixed reality revolution as we uncover the creators who are pioneering storytelling in some of the most exciting new media formats of the past century, and discuss opportunities and challenges of creating animated content for these new realities. The following industry veterans who will lead this program are:
Heather Phenix, Executive Producer at Jam3
Dave Cardwell, Creative Director at SpinVFX and BrioVR
Bone Mother: Behind the Scenes
This is an in-depth look into the 5 year journey to make the National Film Board (NFB) stop motion film, BONE MOTHER. They will discuss the process from adapting an existing story, developing new pipelines for 3D printing, and some of the tough lessons while making a film with a young family. This program features the following industry veterans:
Sylvie Trouve, Director and Animator at See Creature Animation
Dale Hayward, Director and Animator at See Creature Animation
Making Your Way in the World Today
This panel showcases industry professionals who have created their own businesses outside the usual production pipeline, and how they're finding ways to survive and thrive as artists and creators. This program features the following industry veterans:
Hector Herrera, Creative Director at Together Pictures + Words
Morghan Fortier, Co-Owner & CEO of Skyship Entertainment and Co-Owner & Executive Producer of Tinman Creative Studios
Joel MacKenzie, Creator and Animator
A VIP Exclusive Fireside Chat with Jessica Borutski
Exclusive to our VIP passholders … Many production artists want to eventually develop, produce and run a show, but don't know how to get there. After many notable projects as an animator and designer, Jessica has made the move to directing, developing and producing series for Cartoon Network and Nickelodeon.
Jessica Borutski, Supervising Director at Loud House
TAAFI INDUSTRY 2018 Event Details:
November 3-4, 2018
Corus Quay — 25 Dockside Drive, Toronto, ON M5A 1B6
Purchase tickets here: taafi.com/tickets
About the Toronto Animation Arts Festival International (TAAFI):
Founded in 2012, the Toronto Animation Arts Festival International (TAAFI) is a not-for-profit arts organization whose mission is to make Toronto the premiere international destination for animated arts and entertainment. TAAFI hosts a film festival and a variety of recurring industry and public events throughout the year to create unique opportunities that connect animation artists and enthusiasts, and transform the way people create and view animation of all forms. Past TAAFI guests have included Eric Goldberg (Disney's Aladdin), Natasha Allegri (Frederator's Bee and PuppyCat) and Josh Cooley (Disney•Pixar's Inside Out).
Newsletter: taafi.com/subscribe
Facebook: facebook.com/atthetaafi
Twitter: twitter.com/thetaafi
Instagram: instagram.com/thetaafi