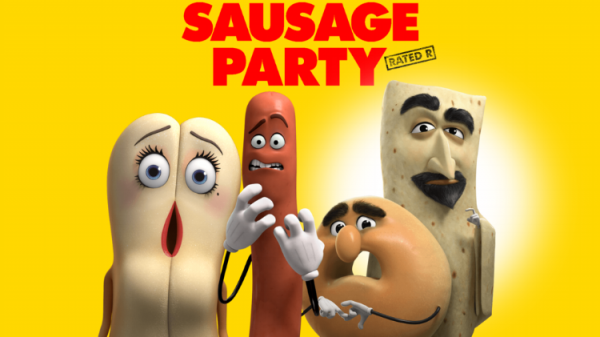 Some very good news out of BC, via the Hollywood Reporter. Animators on Sausage Party, the 2016 animated comedy "by" Seth Rogen and Evan Goldberg, will be compensated for unpaid overtime they worked during production of the 2016 feature. Sadly, this is a practice that's been fairly common over the years, but in this particular case it drew a shit ton of attention after comments were made regarding keeping costs down in production.
Here's a segment from an interview Cartoon Brew ran at the time of the film's release:
CB: The production cost for the film has been reported in the entertainment press as being around $20 million. First of all, is that accurate, because it sounds extremely low for a film with this level of production value, and if it is accurate, how were you able to achieve such quality at that price point?
Greg Tiernan (co-director): Neither Conrad or I can confirm or deny that actual figure, but all I will say is that when Conrad pitched the movie to us, and we made our pact and vow to Conrad, and to Seth and Evan, and eventually to Megan Ellison at Annapurna and to Sony Columbia, we knew damn well that we could deliver a movie that looks like a $150 million movie for a fraction of the cost. That's about as close as I can get to confirming or denying that figure. In general, that's the whole reason we started the studio 13 years ago. After working in the L.A. industry for many years, I could see so much money just needlessly thrown down the toilet in making a lot of these movies. It doesn't have to cost that much money when you're well organized, and you have your mind set on the goal of what you want to do, and you get the job done with a small, determined crew. But yeah, let's just say it was a lower budget movie.
So that got the comments started, and it just took off from there. No overtime pay, reports of threats of blacklisting from key personnel, artists going without credit, etc… There's a fairly in depth article from Variety here from August of 2016 if you feel like taking a peek.
The THR article reports that the animators won a victory, and will be compensated for the overtime pay they're due.
The B.C. Employment Standards Branch in a Dec. 6, 2018 decision ruled that the Sausage Party animators should be paid overtime, and that Cinesite, which acquired Nitrogen Studios in 2017, should pay a $500 fine. Jennifer Moreau, secretary-treasurer at Local 2000, on Monday cheered the labor ruling as it determined that Nitrogen Studios did not qualify to claim a high technology exclusion that Vancouver-based studios routinely claim to make non-union employees ineligible for overtime.
You can read the full article here.