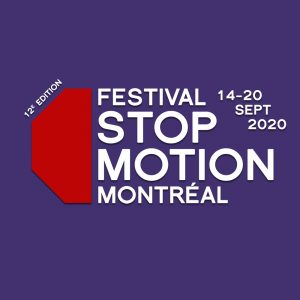 Festival Stop Motion Montréal is actively working on its 12th edition. The world's first festival dedicated to frame by frame animation techniques, will once again offer international short film screenings, stop motion discovery activities for children and adults, special conferences and networking opportunities during its 12th edition happening from September 14th to 20th, 2020. Professional development workshops for artists will be held from September 14th to 17th. All audience section activities will be held September 18th to 20th.
The festival is evaluating the possibility of a prolongation of the protective measures regarding the present COVID-19 pandemic. For the time being, activities will be maintained, whether it be physically or online. Details will be reveal this Summer.
The event is currently accepting film submissions for its upcoming edition. Independent, professional and student filmmakers are invited to submit their short films.
Projects of 30 minutes or less, produced after January 1st, 2018 and using puppet animation, object animation and/or pixillation are accepted. There are no registration fees for submitting a film. The selected films will be eligible for the following prizes:
● Best Professional Film
● Best Independent Film
● Best Emerging Talent Film
● Best Youth Film
● Audience Award
● NAD Special Award, given to a Canadian filmmaker
For all the details regarding the call for entries and to submit a project, visit: http://www.stopmotionmontreal.com/submit-a-film
Promotional video: https://youtu.be/4YLocZE3zdQ
Registration deadline: June 30th, 2020
Contact : Dominique Côté 514-242-1073 dominique.c@stopmotionmontreal.com