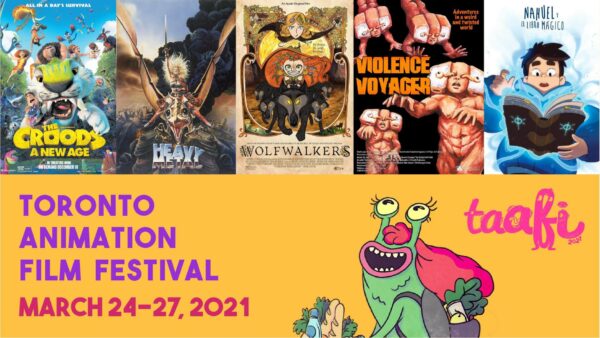 Starting tonight at 5pm, it's yet another exciting online edition of the Toronto Animated Arts Festival International!!! TAAFI!!!!!
Tickets are available, and it's a great way to see Wolfwalkers if you haven't had the chance yet.
Four days of animated films to brighten your quarantine and teach you how to laugh again.
Enjoy epic cartoons from around the world from the comfort of your own bedroom. Toronto's animation festival brings you shorts, features and retrospectives curated to excite, entrance, and delight. It's all happening ONLINE through the miracle of the interweb March 24th – 27th, 2021.
Here's the opening night schedule.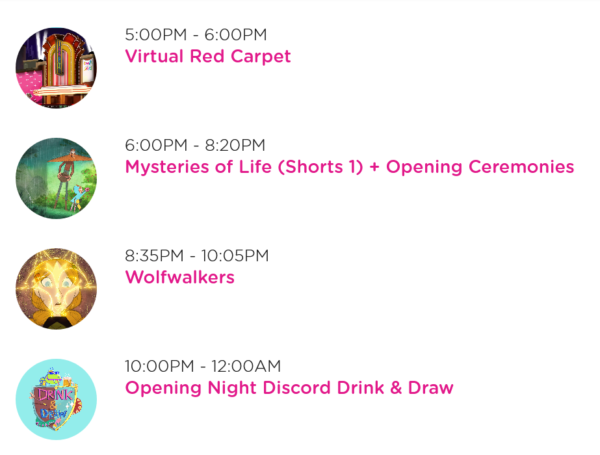 I should add that the Discord server is a ton of fun.
I'm moderating the Doomsday Brothers/Adult Swim panel on Friday, so if you're stalking me, there's your chance.
Other highlights include a HEAVY METAL anniversary screening, a look at Denver Jackson's Cloudrise Pictures (this guy makes his own features!), A Hilda talk, and TONS of shorts.
I want to tip the old hat to the organizers, along with the organizers of every other animation event that has had to pivot during the pandemic. We're now in year two, and we miss being at these things. I know it's not the same as getting together to watch stuff, drink stuff, and hang out, but you amazing folks are keeping us connected and giving us some small sense of normalcy in a far from normal new normal.
Thanks.
Mike