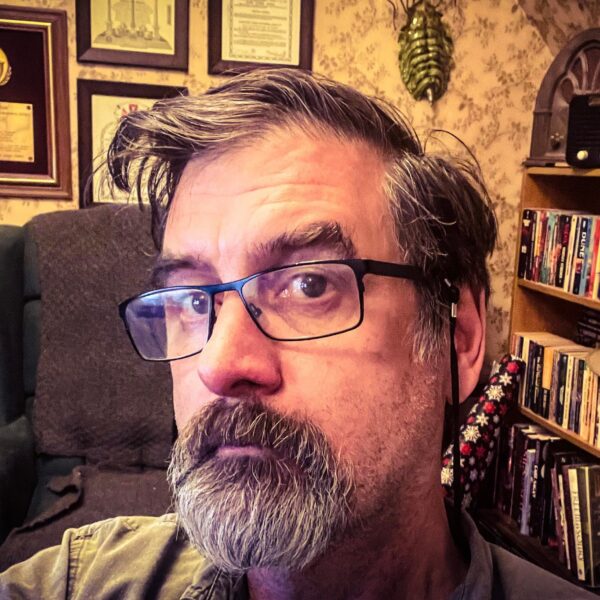 It's been a while since we posted one of these, but here we go.
Sad news out of Toronto this week, as we were shocked to hear of the passing of director, Ted Bastien. Ted spent most of his career (31 years, holy smokes!) at Nelvana, a true lifer, before moving to Guru Studio, where he directed on Paw Patrol for seven years. He'd been fighting cancer, and succumbed on Tuesday.
We found an official obituary, as follows.
Charles Edward (Ted) Bastien
October 14, 1962 – March 21, 2023
Charles (Ted) Bastien passed away peacefully surrounded by family at Toronto General Hospital after a difficult battle with cancer. Beloved husband of Rose and father to Phillip, Ted will be missed by his siblings John (Viviane) and Kate (Walter), his brothers and sisters-in-law Vito (Lina), Kathy (Jim), Mary (Gino), and Terri (Nino), and his several nieces (Laura, Lauren, Tanya, Eva) and nephews (Paul, Andrew, Daniel, Sean, Maison, Aiden). Ted was predeceased by his niece Carmen (2006) and his brother-in-law Jim (2021).

Born in Sarnia, Ontario to Ivan and Dolores (DeFields) Bastien, Ted grew up in Windsor and went on to graduate from Sheridan College's Classical Animation program in Oakville. An Emmy and Canadian Screen Award-winning director, Ted worked on many animated favourites, including PAW Patrol, The Magic School Bus, Handy Manny, Mike the Knight, Brace Face and Little Bear,
Many thanks to the team at Toronto General Hospital and Princess Margaret Hospital for Ted's care.
A celebration of life will take place at a later date. Any donations made in Ted's memory to the Canadian Cancer Society will be greatly appreciated.
Ted is remembered by numerous colleagues, who can speak to his impact and character far better than those of us here at Cartoon North.
From Rich Dannys, with permission.
R.I.P. CHARLES E. "Ted" BASTIEN
This morning I was shocked and saddened to learn of the passing of my old friend Ted Bastien. After I'd completely burned out on Layout and quit Nelvana around '91.. I worked comic-book retail at "The Dragon Lady" on Queen West. I wondered if I'd ever work in Animation, again? Then I learned thru a trade magazine that Nelvana would be adapting one of my favorite comic-books into a TV cartoon: "Cadillacs and Dinosaurs". So, in 1992 I went back to Nelvana where I met Ted for an interview. This time, as a Designer rather than a Layout artist! Ted hired me because he liked my Portfolio, and that I was also familiar with the source comic-book.. Working with Ted and the small Design crew are easily some of the happiest work memories I have. He was kind, generous, and had a wickedly dry (and often dark) sense of humour! He was also patient in my development as a Designer. And protective of his crew. I would later find out how rare these qualities are, in the Animation business! I think the last time I met with him, was in 2019 at Barberian's Steak house. Because he had been working strictly in 3d cartoons and I only worked in 2d.. our paths rarely crossed during the last 10 years or so. I wish I'd have kept in touch more than just the occasional Comment and "Like" on his social media. My deepest condolences go out to Rose and his son Phillip.. Ted was truly one of the creative Giants in the Toronto Animation business!!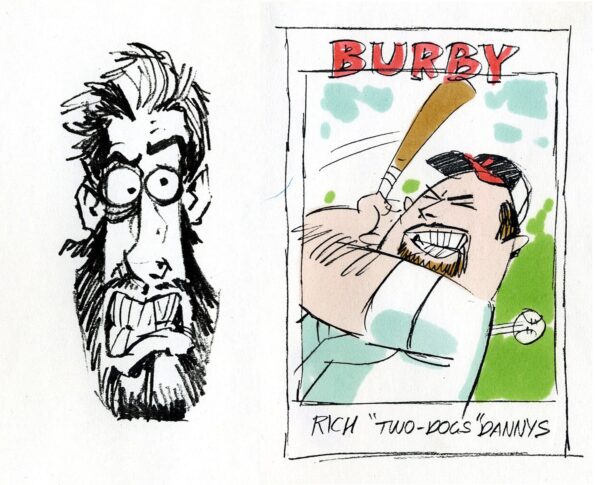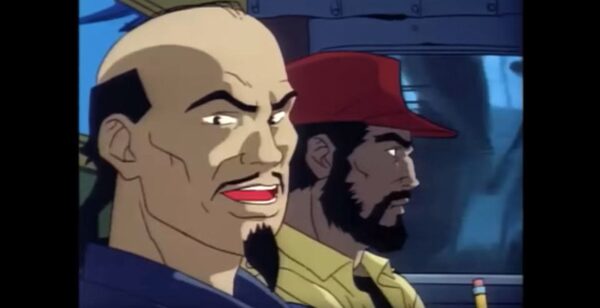 Ted always caricatured himself as a manic, losing-his-mind, type character.. but he was really a sharp wit with great intellect!
I made the mistake of eating 2 street-meat hotdogs at lunch, once. Ted never let me forget it, and "Two-Dogs" quickly became a nickname that would stick! LOL
Ted managed to eventually draw each of the Design Crew members into the "Cadillacs and Dinosaurs" design packs.. Here's Ted in the 1st episode: "ROGUE", appearing as a truck driver!
A treasured original that I pulled out of Ted's waste basket. I believe that these were rough ideas for the Opening Title Sequence of the "Cadillacs and Dinosaurs" cartoon?
Ted liked to caricature me as a constant complainer. I found them hilarious. This time period was also when me and a few animation friends played "Burby" baseball. I think I must've brought my turf shoes into work one day? Of course, this would be my "costume" for every caricature afterwards!
Here's a caricature that always made me laugh.. A quickie done on a scrap of paper, featuring David Thomas! This must've been after Dave came back in the Summer with a tray of coffees for everyone? LOL
During the "Cadillacs and Dinosaurs" production, XENOZOIC TALES creator Mark Schultz actually came to the Nelvana studio.
I had a ton of questions/comments. Things to chat about with one of my favorite comic-book artists?!.. But management never really likes artists to talk to artists. So, they whisked him off to another part of the studio.. I think Ted sensed my disappointment. And of course, he left this drawing on my desk, mere hours later! Haha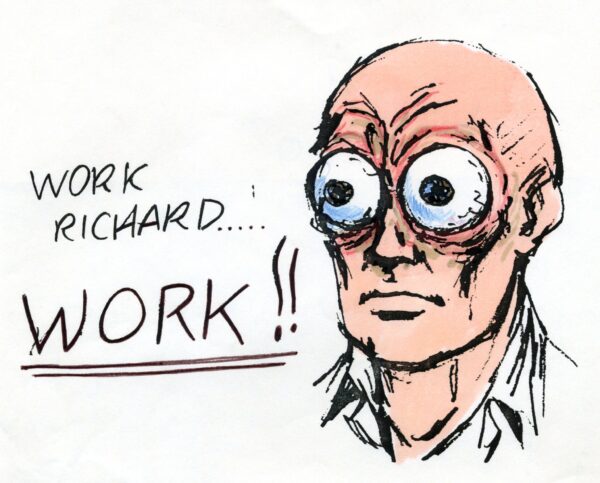 I think the Design crew must've been lagging behind on our schedule. And, I was never the fastest artist around.. One morning, I found this drawing pinned over my desk! LOL
I think we had been discussing an episode of "The Outer Limits" the previous day? Which of course, is what this bug-eyed dude was based on..
Ted always had questions for me about comic-books.. I told him once that I respected comic-books more than animation. Because in comic-books an artist could really be an auteur of his own work. Whereas, Animation was necessarily collaborative..
When he had free moments, he began working on an long elaborate comic-book story. A story populated with many of the characters roaming the Nelvana studio halls.
I felt honored that he made me his Detective partner! Here, we were hunting down "the PAT", — ie. Patrick Rowsome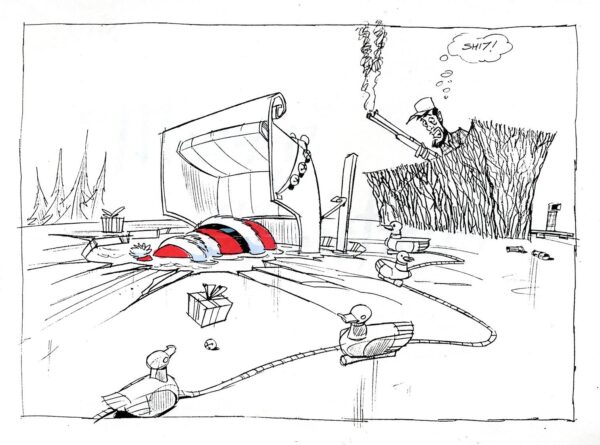 This is a good example of Ted's darker sense of humour… A cherished Christmas Card he gave me, one year!
A grainy 2019 photo at the Barberian's Steak House.. Where as David Thomas sez: "The braintrust met to solve the World's woes.."
I believe the last few times I ran into Ted, was when I was working at YOWZA! Animation. I believe he lived near "The Junction" area? But he was always in the car with Rose and Phil, off to some restaurant.. So sadly, we hardly had time to exchange more than a few words..
Big thank you to Rich for letting us run his post here. During a chat with him earlier today he added this: "it's hard to quantify how important Ted was to the industry.. He had his hands in a lot of stuff. And was able to move freely between the strata of artists and management effortlessly. he was always a "company man".. but not in a slavish self-humiliating way"
Ted spent the last few years at Toronto's Guru Studio, who shared the news on their socials.
It is with a heavy heart that we share the news that Ted Bastien, director on PAW Patrol for over 7 years, has passed away. Ted was a dear colleague and friend to many of us at Guru. Throughout his illness, Ted fought bravely to be a strong creative leader for his team and to always keep everyone's spirits high.
Ted started with Guru back in July 2015 after a remarkable 31 years at Nelvana. During his time at Guru, he led our 100+ PAW team through many creative adventures across several series and specials. Ted will always be remembered for his sharp wit, charm, and bright sense of humour. His passion was infectious and his standards unwavering. Ted was an invaluable contributor to PAW Patrol's international success and to kids entertainment in Canada and around the world.
Our hearts go out to his entire family and to everyone who had the pleasure of working alongside him. He will be greatly missed.
Clearly, Ted left a mark on our community. If anyone wants to share your memories here, we invite you to do so.