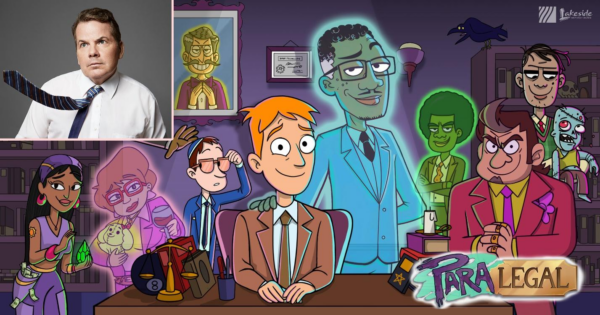 Toronto, ON – Canadian Comedy Icon Bruce McCulloch will take a leading role in Lakeside Animation's new animated adult comedy, Paralegal.  The series follows Jerry, an eager to please junior lawyer, who teams up with Luther, a recently deceased super-slick attorney to create a law firm catering to ghosts. With the help of the legal and supernatural experts in Jerry's own immediate family, they work together to right the wrongs that were done to their clients, living and/or dead. McCulloch will voice Jerry's nemesis Marlon Brisk, a local crime lord and spirit medium. 
"So excited to be a part of this. What a unique and funny world created by such a talented group of people." –BRUCE McCULLOCH
"We are thrilled about Bruce's involvement in Paralegal. He's a comedy legend, a national treasure and he brings such an incredible energy to the show." —MATT LYON (CCO, Lakeside Animation Studios)
The series is created by Tim Blair (Tallboyz), Jeremy Dobski (Just For Laughs) and Matt Lyon (Arctic Dogs).
Iouri Stepanov Lakeside Owner/Executive Producer and Aron Dunn, Chief Content Officer, will be presenting the project to networks, platforms, distributors and financiers at the Annecy Festival (www.annecyfestival.com). The project is in active development. A fully illustrated pitch deck and pilot script are available. Lakeside plans to produce an animated teaser that will be available at MIPCOM in October.
Lakeside Animation is a premier Canadian studio that specializes in developing content, offering pre-production and post-production services to our clients. Committed to telling original stories in a variety of genres and perspectives, Lakeside is experienced in international co-production and has collaborated with studios all over the world.
For more information contact: Aron Dunn, Chief Content Officer aron.dunn@lakesideanimation.com