The Ottawa International Animation Festival is right around the corner, and it's going to be interesting, to say the least.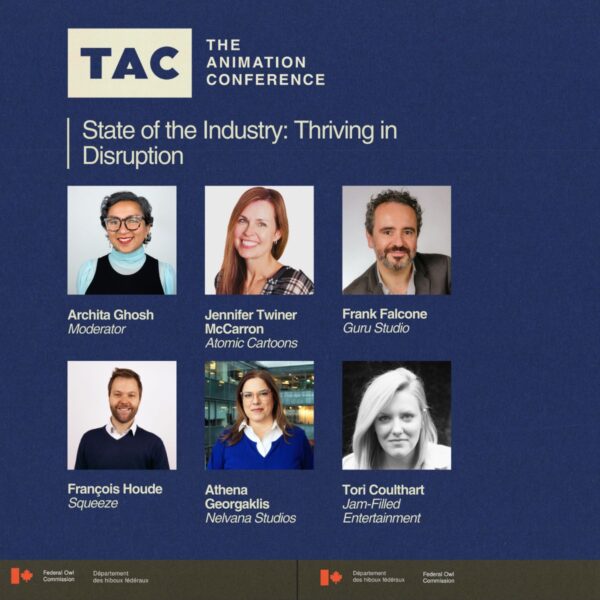 I'm generally wary of State of the Industry panels. They can often slip into just a big round of self indulgent back-patting that completely ignores the real issues we're facing in any given year. However, this is a pretty good-looking lineup.
Here's the panel description:
Sometimes you need to pivot ↩️

Amid a writer's strike, downsizing, and the threats of AI, learn how the Canadian animation industry is resilient in the face of adversity.

Industry innovator Archita Ghosh moderates this conversation with panelists:
🔷Jennifer Twiner McCarron, CEO, Atomic Cartoons/Thunderbird Entertainment (Atomic Cartoons)
🔷Frank Falcone, President and Creative Director (Guru Studio)
🔷François Houde, CPA (Squeeze Animation Studios)
🔷Athena Georgaklis (she/her), Vice President (NELVANA)
🔷Victoria Coulthart, Senior VP of Production, (Jam Filled)

This panel is a part of The Animation Conference (TAC) at the Ottawa International Animation Festival and is open exclusively to TAC AnimPass and TAC Only passholders.
🔗 https://lnkd.in/gtbW9H9u
Archita Ghosh, the moderator, is a very smart human. And she's part of one of my most favourite studios in Canada, if not the world, ED Films. So we're off to a good start.
Jennifer Twiner McCarron is also a super smart human. She runs Atomic Cartoons and their parent company, Thunderbird Entertainment. I only met Jennifer once, many years ago, but she's impressive.
Then we've got Frank Falcone, Guru Studio founder and big boss. Once again, a super smart human who's navigated our industry for a very long time. I'm always there to hear what Frank has to say.
I don't know Francois Houde. I'm guessing he's smart.
Athena Georgaklis is there to give the broadcaster perspective. I shit on broadcasters a lot, but not on the individual humans who work for them. And Athena is one of the very best. She's been at this longer than most, and I value her opinion and insight tremendously.
And Victoria Coulthart! Jam Filled's VP of Production was raised in the business, literally. If anyone can provide some context, it's her. Also very smart.
Here's the link. See you there.