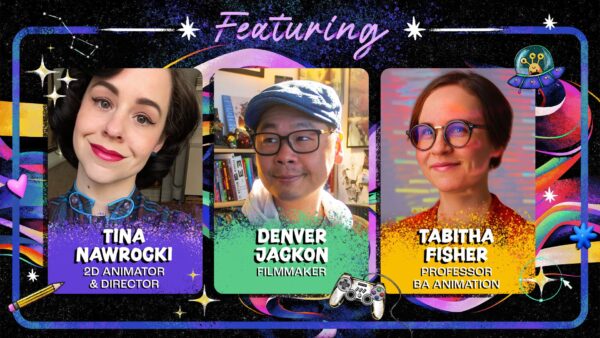 I'm excited for this one. These three humans are my picks for superstars of Canadian Indie Animation 2023. I've had the pleasure of following their projects and progress, and I know 2 of them fairly well, they[re really just the best.
Also, indie funding? How timely! As production continues to slow across the service industry, how important is this kind of knowledge going to be?! Right? More of us are making our own films, it would be great to learn how these fantastic humans paid for theirs.
Here's the description:
My Indie Funding Journey!

Calling all creative souls! Have you ever dreamed of turning your vision into an independent film, only to find the funding challenge overwhelming? Fear not, for we've assembled a stellar lineup to share their funding journeys and secrets with you!

Join us as we dive into the world of indie film funding with the talented minds behind some amazing projects: independent animator Tina Nawrocki (Syrenka: Legend of the Warsaw Mermaid), Denver Jackson from Cloudrise Pictures (The Worlds Divide), and Tabitha Fisher from Sheridan College (Hey Men!).

They'll unveil their crowdfunding adventures on platforms like Indiegogo and Kickstarter, provide insights into securing grants through platforms such as the Canada Council for the Arts and the NFB Film Assistance Program, and offer a glimpse into the art of self-financing projects alongside external funding.

Discover YOUR funding path and get an exclusive peek at their upcoming gems!

And remember, don't forget to secure your tickets and join us for an enlightening discussion with these remarkable indie filmmakers. Get ready to supercharge your funding journey!
And here's the link to the TAAFI site so you can get your tickets.