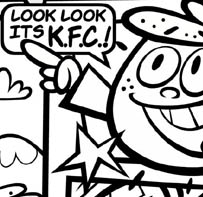 After posting his strip, Chicken Bone, the other day, Mike sent me a link to the first one, so I'm passing the poultry on to you guys. (click on the image)
Mike's also responsible for a number of shorts, including the County Ghost series and Cuddlesticks. There's been an interesting development with Cuddlesticks, something I'll dedicate a post to next.
Here's some County Ghost.