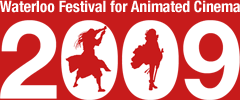 WFAC 2009 is almost upon us, and I need someone to play the role of intrepid reporter on behalf of the site!  I'm definitely missing out on this truly unique event.  The lineup of films this year is really amazing and hats off to Joseph Chen for putting this program together.  I'm going to quote Cartoon Brew here, because I can't say it any better: "Chen's smart curation is yet another step towards challenging the ever-prevalent misconception in North America of animation as a kiddie art form".
I couldn't agree more.  I've been dying to see the Secret of the Kells and would much rather check it out on a big screen, munching on popcorn, than from my couch (comfortable as that is).
The festival takes place from November 19-22 at the Gig Theatre (137 Ontario Street North) in Kitchener, Ontario. That's this weekend!  So go check out the details here: WFAC.ca.  And, if you want to get your paws on my pass, write to me today and tell me why you deserve it! mv@canadiananimationresources.ca
Good luck!
m