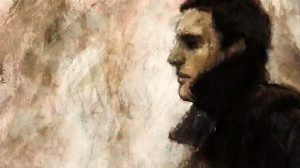 This animated short was screened as part of the 2010 Worldwide Short Film Festival in Toronto.)
Countless documents and lives have illustrated the relationship between creativity and madness. Whether it's musician Nick Drake, painter Vincent Van Gogh, horror writer H.P. Lovecraft or animator Ryan Larkin, there are no shortage of lives burned out by the very fires that drove them to create brilliant work.
Animator Theodore Ushev (Drux Flux) and Ottawa International Animation Festival artistic director Chris Robinson explore this tension with their short Lipsett Diaries, a descent into the tortured mind and life of National Film Board of Canada animator Arthur Lipsett (1936 – 1986). Telling the story of the acclaimed animator's life through a series of fictitious diary entries, it's an unpleasant – but compelling – visual experience.
Theodore Ushev and Chris Robinson Produce the National Film Board of Canada's Lipsett Diaries
From 1958 to 1978, Arthur Lipsett created a series of visual and aural collages for the NFB, built from bits of discarded film and sound footage. The result was films like 1961's Oscar-nominated Very Nice, Very Nice and 1963's 21-87, which influenced everyone from Stanley Kubrick to George Lucas. But, as Lipsett's star rose, so did his battles with bipolar affective disorder. As the disease worsened the quality of his work declined, and he eventually took his life 12 days before his 50th birthday.