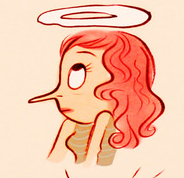 It's Wednesday, traditionally know as new comic day to us nerds, so I'm going to try to deliver a few comics to you readers.
First up is Marlo Meekins.  She makes comics.  And teaches animation design. One of her comics was recently featured by Vice.   Click on the link form more.
Marlo also tweets her comics.