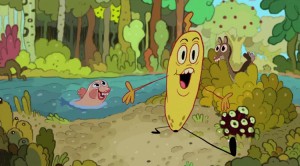 Here's some good news!  A little while back, Nick Cross posted a pilot he animated for  Dave Cooper and Johnny Ryan's PIG GOAT BANANA MANTIS!  The cartoon was produced for Nickelodeon, and we all got to see it because the network had finally passed on the project.  It looked like a candidate for our "Greatest Cartoons Never Made" bin, but it seems that all the attention paid to it online has the folks at Nickelodeon rethinking their decision.  In an interview with Vice Magazine about the project, Ryan commented: animator Nick Cross posted the original cartoon on his site where it got a really positive response. I think this made Nickelodeon rethink their decision and they decided to revive the project. So now we are going back into development to try and make it work.

The rest of the interview is pretty great too, so go read it.

Thank you, internets.