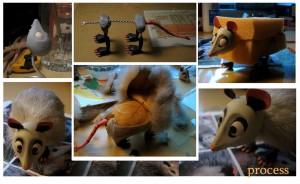 The Toronto Animated Image Society regularly presents workshops on a variety of subjects. Coming up next month, for instance, is a puppet-building workshop presented by stop-motion animator Carla Veldman. Carla is the film-maker behind Dog Walker.

Dog Walker – The Most Loyal from Carla Veldman on Vimeo.
Here are the details for the workshop. Check out the TAIS site for more.
Sunday February 16, 2014, 11 am – 5 pm *
$75 members, $90 non-members
This workshop is an introduction to different types of stop-motion puppets and their armatures, including wire, aluminum, paper, and ball-and-socket.  Topics covered will include puppet-planning, materials used, tie-down types, and mouth replacements. Participants will be able to fabricate their own wire armatures during the workshop (materials provided), and puppet examples will be available for reference.
Instructor Carla Veldman is an animation film-maker and stop-motion artist. A Sheridan graduate and lover of stories, she enjoys the tactile and textural world of puppet animation.
http://carlaveldman.daportfolio.com/