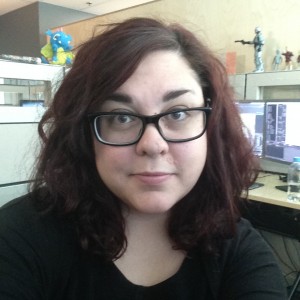 Hi! My name is Rosemary Travale and I work in Halifax, Nova Scotia currently as a Layout Artist at DHX Media. I'm originally from Stoney Creek, Ontario and I went to Sheridan College for animation, graduating in 2014.
I'm only a recent transplant to Halifax, moving here with my finacee at the very start of 2015 after I was offered a design position from DHX. I was pretty excited to come out here as I had some friends in the industry here who did a great game talking up the beautiful city and how great it was to work and live in Halifax. I learned pretty quickly they were absolutely right and weren't exaggerating at all. I feel that I've been incredibly lucky to work in a place I've grown to love so quickly, at a workplace filled with amazing and talented
people!
It would be such a shame to see this industry that I am so proud to be a part of in Halifax destroyed without a second thought because of the film tax credit being cut. All of these vibrant and talented people would have to uproot their lives to continue working in this industry we all love, taking everything they have been putting into the Halifax economy with them. The film industry has generated so much money and jobs for this province, it makes no sense that we are on the verge of being chased out. While it would be hard for us all to leave, and many (including myself) don't want to go, there are other provinces that want us and will fight to keep their incentives lucrative enough to draw studios to them. For now we will keep fighting for Halifax and hopefully prevent this incredible mistake from becoming a reality. We will not give up!
Please keep supporting us in our fight to keep the tax credit alive!
#FacesOfFilmNS #NSFilmJobs #NSFilmTaxCredit