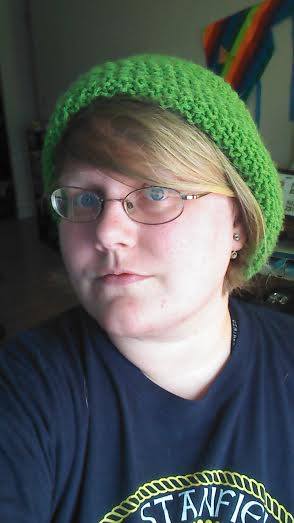 Nineteen years out west. It was after nineteen years out west, at the age of 25, that I finally got the chance to move back to Nova Scotia. The decision to do so was easy; I have so much family out here, and even though I left the province at the age of six, I had too many fond memories to ever really think of myself as Albertan. I never stopped thinking of Nova Scotia as home. So, when Dad asked if I wanted to move back out here with him, my answer was a resounding and immediate yes. I would sort out the details later, figure out what I would do with the rest of my life once I was back where I belonged. I packed up everything, and I left my life in Edmonton behind to come home to the Maritimes.
The 'sorting' that I had decided to do turned out to be finally going to school to become an animator, a dream that I'd had since I was little. And I took to that dream so fervently that before I had even graduated from the Game Animation program (where I was the oldest student in my quarter, at the ripe old age of 27) at the Centre for Arts and Technology in Halifax, I had a job offer waiting for me at Copernicus Studios, just down the road. It wasn't game animation. Hell, it wasn't even 3D, which was what the program was teaching me. But it was a foot in the door in the industry, and after some (minimal) fretting, I left school a few months early and started my career in 2D animation for television.
The industry is full of little surprises like that. That's part of the charm of it.
In my three and a half years with Copernicus, I've worked on five series, from the IFTA-winning preschool series Tilly and Friends for JAM Media and the BBC, to Teen Titans GO!, one of the highest-rating shows on the Cartoon Network, for Warner Brothers and DC. I look around the studio and I see faces from all over – Two animators at my table came from Ontario for our current project, and another came all the way from Ireland. One of my best friends came here from New Brunswick, and has been working at Copernicus for just as long as I have. Another is here from Australia, and not only is he now my roommate, I wouldn't hesitate to call him family. He's a brother to me, and I hope he gets the Canadian citizenship that he's been wanting for so long. He's fallen in love with Halifax, too. So, so much of the studio has become family, I would be devastated to have to leave it behind. We've laughed together, celebrated holidays and mutual successes, fumed and raged and made stupid in-jokes and got on one another's nerves and stayed up all hours of the night to meet impossible deadlines in spite of power outages and three-meter snow banks and the annual studio flu. And we've cried together on more than one occasion, as well.
Coming back home worked for me. It gave me a sense of self that I had been lacking in Alberta, a chance to finally step into a career that I had only been able to dream about while living in Edmonton. All around the world, children are enjoying the adventures of characters that I helped bring to life through long hours and dedication and occasional bouts of caffiene-fuelled all-nighters two days before a WB deadline on a holiday weekend, and I am so damn proud of the work that I do here.
If the NS film tax credit is cut, I lose so much of that. The credit is what keeps Nova Scotia's film industry competitive in a world where all successful North American film industries benefit from government programs like this one. The Dark Knight Rises, among other big film projects, helped to pull the city of Pittsburgh out of financial peril. Their tax credit was what drew that production there in the first place. Breaking Bad's setting was changed from California to Albuquerque specifically because of the credit offered there, and again, it garnered significant financial gain for the area. Nova Scotia is no different. Series like Haven and The Book of Negroes have already brought money and young workers into the province. People could come here and go to school, and then, like me, find a career not three blocks away from the building where they studied. That's huge incentive to come to Nova Scotia to learn, and bigger incentive to stick around.
In less than a year's time, after the project we're currently working on is over, the future is now uncertain for the studio in which I work. If the tax credit is cut, Nova Scotia's industry will bleed out, and the talent that it attracted, many of them young and from away, will go where the work is. Film is such a transient industry, and most people who work in it are all too aware of that fact, which is why so many are facing this obstacle as though they already have one foot out the door. They're terrified, but they understand that the work will go where production is competitive. It stands to reason that the talent will soon follow.
I don't want to have to follow. When this contract is through, I intend to be an animator. I'll fight to see that nothing takes that away from me. I'll move if I absolutely need to, because animation is my career. It's my passion. It's a huge part of the identity that I've finally found for myself, just as much as 'Nova Scotian' was for nineteen years while I pined for the sound of the ocean on a dry Albertan plain.
I am an animator in Halifax, Nova Scotia. And I'll be an animator anywhere I need to go. I'll be a Nova Scotian anywhere, too, if that's what it comes to. And I don't want to have to leave.
‪#‎FightNotFlight‬ ‪#‎FacesofFilmNS‬ ‪#‎NSfilmtaxcredit‬ ‪#‎NSFilmJobs‬