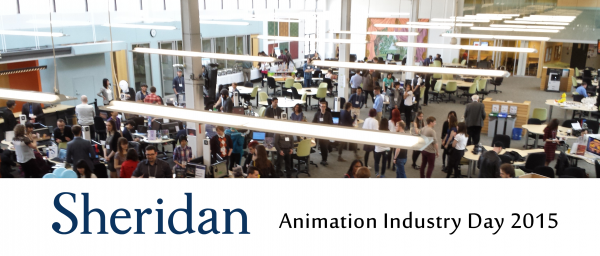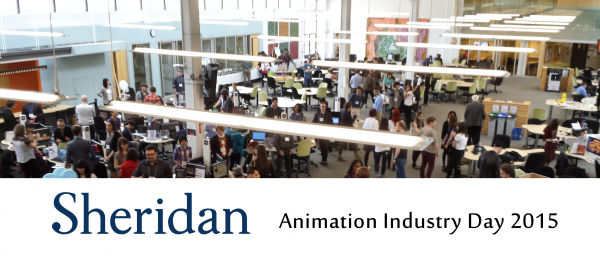 Boy, what a day! April 30th was Sheridan's Animation Industry Day. I was Sheridan Animation program graduate in 2010 and this was my first industry day since then so I was pretty excited to experience it from the employer's point of view.
In the morning we watched films from computer animation post-graduate program. To be perfectly honest, the most of the films from that batch were below average at best. As you are all aware, film making involve good understanding of story structure, pacing/cutting, art direction, composition, acting, posing, and etc. All of which were vastly missing from these 'films'. I believe the program would to better if students were to focus on singular thing they which to excel in-whether it's lighting, modeling, location design, cg animation and texturing- rather than push to get a film made without understanding of basic film language.
However, there were couple of gems in the screening as well. Changsik Lee's film – "Dead Friends" was not only solid in all the things I listed above but it was very entertaining as well. Changsik won couple of awards at the awards ceremony. Shaoai Chen's film "Kindled" was another one that stood out. It had beautiful art direction and lighting. Visual Effects reel that was screened was a lot of fun and impressive to watch. Seeing buildings explode and fantastic visuals grafted onto live action footage in the VFX reel almost made me want to enroll in that program.
Now, for the meat of the day. Sheridan's BA animation program screening. I not sure where to begin with this one because so many of the films blew me away. Only the one minute segment per film was shown and many of the films left you wanting for more. I suppose that is a good thing as that makes the employers to see the whole film at the students show floor.
Here's the reel for the screening just for you to get the feel of this year's films.
Honestly, there were so many strong films and I would be here all day writing about them if I were to get into details. For the sake of this article, I'll list some of the personal favourites but be mindful that there were a lot more worth noting.
"The Case of Nips & Porkington" by Melody Wang
"5 " by Be Hee Seong
"The Tale" by Kaitlin Sutherland
"Camp Wakalulu" by Elita Elkana
"Ed" by Taha Neyestani
"Spaceman Spence" by Luke Coleman
"Shadow Boxing" by Richardo Regalado
On general note, I was glad to see there were many films that gave tender love and care to the animation aspect of the film. In previous Sheridan years, there were many films with beautiful design and art direction but animations were on 4s. It's great to see complete animation at least on 2s and get a good sense of timing and spacing.
After the screening, we had a chance me meet the students. It was nice to meet couple of students I knew from online to put face to the names. My selfish wish is that I could just meet every single one of the students and just chitchat but on industry day students' time is pretty valuable. I went in as part of the studio as we have some jobs that needed to be filled so I found myself avoiding student desks that didn't seem to fit into the position even though their film was fantastic.
I am super excited to work with some of these guys at the studio. There's nothing like having talented young artists around to keep the artistic passion going.
I wish all this year's graduates best of luck!
Thanks!
-Kyu