Last updated on September 28, 2015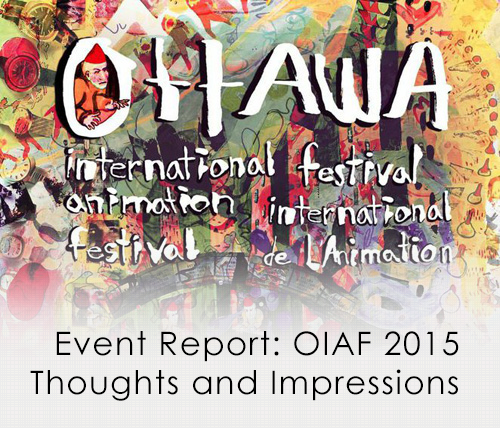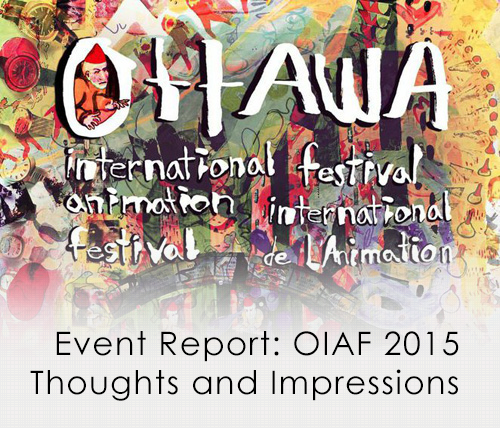 Happening this past week (Sept. 16-20, 2015) was Ottawa International Animation Festival.
I only went for the weekend portion of the festival and overall I had a pretty awesome time.
Here's brief highlight of the stuff I got to see and a bit of personal thoughts.
I started the festival with screening of films by Michele Cournoyer.
Her early films were largely experimental. Some felt closes to slide shows of life action footage than animation. Her more recent films however, had striking black ink style and metamorphosis techniques to represent themes such as rape, alcohol addiction and war. It was fascinating to watch a film with no cuts and have metamorphosis giving the sense of multiple scenes and imagery to convey a message.
TED-Ed panel introduced me to their amazing archive of educational animated lessons. The talk was about the process of choosing the lesson topics and how the educator and the animator work in tandem to create lessons that are easy to understand and get young kids excited about a topic. For me, it was great to see examples of different art directions and animation techniques. You can check out all of the TED-Ed videos at their site. (http://ed.ted.com/)
I wrapped up Friday with feature screening of Over the Garden Wall. It was a screening of the short series played back to back. I haven't had the chance to see Over the Garden Wall so it was great opportunity watch all the episodes and on a big screen to boot. I highly recommend Over the Garden Wall if you live under a rock like me and have yet to see it.
On day 2, there was a behinds the scenes talk of Over the Garden Wall. The guests were the creator Patrick McHale, Canada's own Nick Cross and Steve Wolfhard. It was insightful to hear them talk about how the show came to be. I also just love seeing fellow Canadians kicking butt in the top of the animation field.
The other panel I listened to was about the creation and green lighting to the show of Nickelodeon Shows – The Loud House and Pinky Malinky. I loved the show concept of The Loud House, a show about a boy living with 10 sisters. The clip they showed was very cute and I'd love to see more of it. Props to Jam Filled Entertainment in Ottawa for doing animation on both of those shows.
I watched a feature film called Adama(2015) directed by Simon Rouby. The story format felt little too close to heroes journey and pacing was not overly innovative but the outstanding visual kept me interested. You can watch the international Trailer here. (https://vimeo.com/126782638) I recommend watching the trailer only up to 30 seconds or so as the rest of the video reveals a bit to much of the film.
On day 3, I ended the festival with the Special screening of Hotel Transylvania 2. If you liked the first one, you'll like this one too. Lots of gags and fantastic poses. I highly recommend it.
I also went to couple of shorts screenings throughout the weekend, here are some of my favourites
Edmond (2015) by Nina Gants
Yul et le Serpent (2015) by Gabriel Harel
Dans la joie et la bonne humeur (2015) by Jeanne Boukraa
Jiri (2015) by Alice Reily de Souza
Viikset (2015) by Anni Oja
Pombo Loves You (2015) by Steve Warne
Ernie Biscuit (2015) by Adam Elliot
It seems when I attend OIAF, the festival feels smaller each time. While it is probably true that the number of venues decreased slightly and thus, the number of screenings during the weekend but the quality of films and panels are just as good as ever. There are various different styles in the film selections and I enjoy seeing number of experimental and abstract films aren't decreasing. Perhaps I may not always find those films to be pleasant to watch but I love seeing ideas and visuals that are far detached from commercial animation world I am in.
If you aren't the type to enjoy independent films, and rather attend festivals like CTN and TAAFI, I wouldn't count out OIAF just yet. OIAF still offers plenty of screenings and great panels for more commercial art and animation career related inspirations.
If you were at OIAF this year, I'd love to hear what your experience was like and your favourite films and panels.
Please leave your response here, on facebook or twitter.
FACEBOOK: https://www.facebook.com/CartoonNorth/
TWITTER: https://twitter.com/CartoonNorth
Next on the horizon for me is CTN expo in Burbank. If you are also going, perhaps I'll see you there.
Thanks and keep on creating.
-Kyu