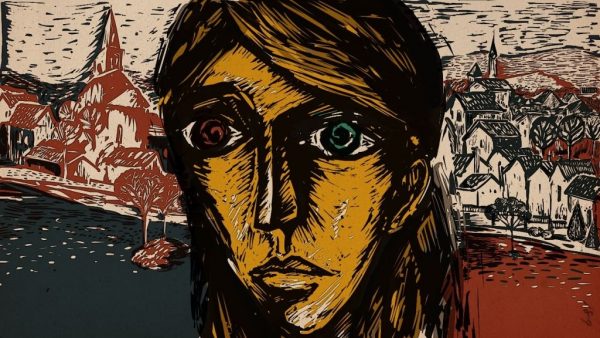 NFB receives 74th Academy Award nomination
Theodore Ushev's Blind Vaysha is headed to the Oscars with a nomination for Best Animated Short Film
January 24, 2017 – Montreal – National Film Board of Canada (NFB)
Theodore Ushev's multi-award-winning Blind Vaysha (NFB) has been honoured with an Academy Award nomination for Best Animated Short Film.
It's the first Oscar nomination for the acclaimed Montreal-based animator―and the 74th for the National Film Board of Canada, which has received more Academy Award nominations than any other film organization based outside of Hollywood.
Blind Vaysha is produced at the NFB by Marc Bertrand and executive producer Julie Roy, with the participation of ARTE France.
"It's really fantastic to get this nomination. I'm over the moon! But this honour is not just for me: I want to thank my collaborators, especially my producer, Marc Bertrand, and the author, Georgi Gospodinov," said Theodore Ushev. "So the entire NFB will be over the moon, at a big party on the moon with Vaysha!"
"The NFB is recognized as a leading producer of animation art, pushing the envelope in form and content, and great storytelling. Today's nomination is a wonderful endorsement of our hard work. Congratulations to Theodore, Marc, Julie and everyone who's contributed to Blind Vaysha―it's an exciting day for the NFB and for Canada," said Claude Joli-Coeur, Government Film Commissioner and NFB Chairperson.
The 89th Academy Awards will take place February 26, 2017, at Hollywood's Dolby Theatre. The NFB has won 12 Oscars over its 78-year history, including a 1989 Honorary Academy Award for overall excellence in cinema.
About Theodore Ushev and Blind Vaysha
Originally from Bulgaria, Theodore Ushev has made Montreal his home since 1999, quickly establishing himself as a talented and prolific animator, working mainly with the NFB. Ushev has won many of the animation world's top honours, including a Genie Award for his 2010 animated documentary, Lipsett Diaries.
In Blind Vaysha, a girl is trapped in time: her left eye sees only the past while her right eye sees only the future. Like a terrible curse, Vaysha's split vision prevents her from living in the present. Blinded by what was and tormented by what will be, she's unable to see the reality that exists in the present. In this animated film adapted from the philosophical short story by Georgi Gospodinov, a leading multidisciplinary author from the younger generation of Bulgarian writers, Ushev reaffirms his virtuosity in visual experimentation. Using an expressive and powerful style poised halfway between religious paintings and linocuts, he creates a film that is both symbolic and accessible. Featuring bucolic European landscapes and Benedictine architecture, and brilliantly narrated by actress Caroline Dhavernas, Blind Vaysha is a captivating metaphoric tale about the difficulty of being in the here and now.
Ushev's Blind Vaysha is already on track to be his most acclaimed film to date, with 17 Canadian and international honours, including both the Jury Award and Junior Jury Award at the Annecy International Animation Film Festival, the Gold Plaque for Best Animated Short at the Chicago International Film Festival, as well as the awards for Best Narrative Short Animation and Best Canadian Animation at the Ottawa International Animation Festival.