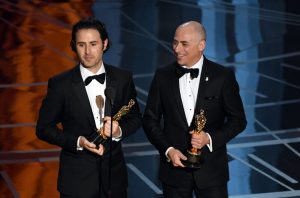 Zootopia and Piper.
Both good films, both very safe, mainstream picks. No huge suprises.
Piper's got a Canadian director, Alan Barillaro, Sheridan grad from Chippawa, Ontario. Here's the Toronto Star coverage: https://www.thestar.com/entertainment/movies/2017/02/26/ontario-animator-alan-barillaro-wins-best-animated-short-oscar-for-piper.html
Congrats to the winners, and big congrats to all the nominees. We had a really strong group of Canadians representing this year.
And for anyone who's interested, here's a link to Chris Robinson's thoughts on the nominees. http://www.awn.com/animationworld/running-independent-look-oscar-nominees-best-animated-feature
http://www.awn.com/animationworld/time-trapper-frank-look-2017-short-animation-oscar-nominees
Good reads and fair analysis from Chris.