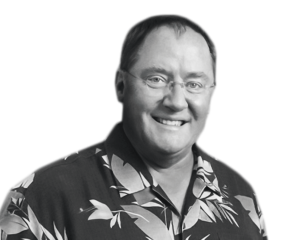 Alright, we're going to share this news too. Not with the obvious glee that Cartoon Brew is indulging in, but it's real, and it's big.
Pixar's chief creative officer, John Lasseter, has taken a six month "sabbatical" from the company amid numerous allegations of inappropriate behaviour. Rarely have I seen my social media feeds react with so many broken hearts. This is basically like if your childhood personified into a creepy uncle and then hugged you too long and kissed you full on the lips, while swigging from a jug of vodka.
Vanity Fair is reporting on it here: https://www.vanityfair.com/hollywood/2017/11/disney-pixar-john-lasseter-leave-allegations
Variety has it here: http://variety.com/2017/film/news/john-lasseter-pixar-disney-whisper-network-1202620960/
There's an interesting section in the last one that demonstrates a slightly less obvious repercussion to a toxic presence at the top. Not only have women been subjected to behaviour that's clearly unacceptable and troubling, but in order to spare them the "uncomfortable" situations, they've been left out of meetings where they would otherwise have the opportunity to share their input and insights, and potentially advance their careers, all because "John has a hard time controlling himself around young pretty girls."
Here's the New York Times: https://www.nytimes.com/2017/11/21/business/media/john-lasseter-pixar-disney-leave.html
And the article that has everyone talking is from the Hollywood Reporter. In it, actress/writer Rashida Jones is named as having left Toy Story 4 after unwanted advances by Lasseter. https://www.hollywoodreporter.com/news/john-lasseters-pattern-alleged-misconduct-detailed-by-disney-pixar-insiders-1059594
However, Jones and her writing partner, Eric McCormack, have since refuted the "unwanted advances" comment, saying they left over philosphical differences with Pixar, where they assert that women and people of color did not have "an equal creative voice" at Pixar. Here's the quote that AWN is running:
"The breakneck speed at which journalists have been naming the next perpetrator renders some reporting irresponsible. We did not leave Pixar because of unwanted advances. That is untrue. We parted ways because of creative and, more importantly, philosophical differences. There is so much talent at Pixar, and we remain enormous fans of their films. However, it is also a culture where women and people of color do not have an equal creative voice."
And here's the link to the AWN article: https://www.awn.com/news/jones-mccormack-refute-allegations-sexual-misconduct-against-john-lasseter
Seriously, just google "John Lasseter". There's plenty of people covering this.
I'm going to just share this stuff without commenting. I just don't feel qualified to do so, but it's irresponsible and impossible to be an animation website and not share this news. Our world is finally catching up to what it's supposed to be, and it's hard. Change is hard. But change is good. Your collective childhoods are intact folks, the movies are what you experienced, you'll always have that. And hopefully this is all leading us somewhere better.
Be good to each other.