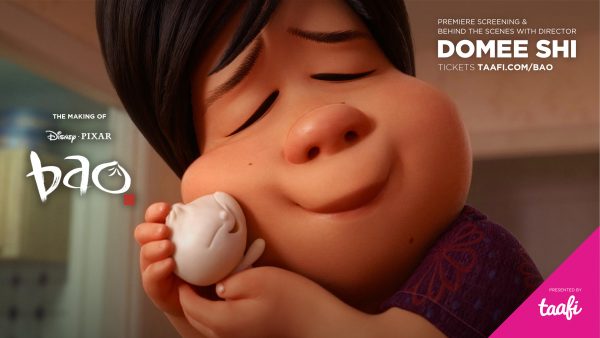 DIRECTOR IN ATTENDANCE: TAAFI ANNOUNCES AN EXCLUSIVE SCREENING AND BEHIND-THE-SCENES TALK BY DOMEE SHI, DIRECTOR OF "BAO."
Toronto, ON (May 30, 2018) – Today, the Toronto Animation Arts Festival International (TAAFI) announced an exclusive event with Toronto-raised director, Domee Shi. The screening includes an exclusive, behind-the-scenes talk with the director of the latest short from Pixar Animation Studios. Shi will give a presentation on the Making of "Bao."
The screening and director talk will be held on Monday, June 11th at Cineplex Cinemas Yonge-Dundas.
"We are very excited to host up-and-coming director Domee Shi," said Barnabas Wornoff, Chair, TAAFI. "Not only do we get to celebrate the fact that Domee is Canadian, but we get to elevate diversity within the industry."
Bao will screen before Pixar Animation Studios' Incredibles 2 which opens in theatres across Canada on Friday, June 15th. In Bao, a mother wrestling with the empty nest syndrome hatches a fantasy in which one of her handmade dumplings comes to life.
Shi was born in China and moved to Toronto when she was two years old. She graduated from Sheridan College's Animation program, and following an internship at Pixar, Shi storyboarded on Inside Out, The Good Dinosaur, Incredibles 2, and Toy Story 4. Shi is currently in the development stages of a feature film with Pixar Animation, based on one of her many other concepts.
Details of Bao Special Screening and Discussion
Making of Bao
Premiere Screening and Behind-Scenes Talk with Domee Shi
Monday, June 11th
7:00pm – 8:30pm
Cineplex Cinemas Yonge-Dundas — 10 Dundas St. E #402, Toronto, ON M5B 2G9
Purchase tickets here: taafi.com/bao