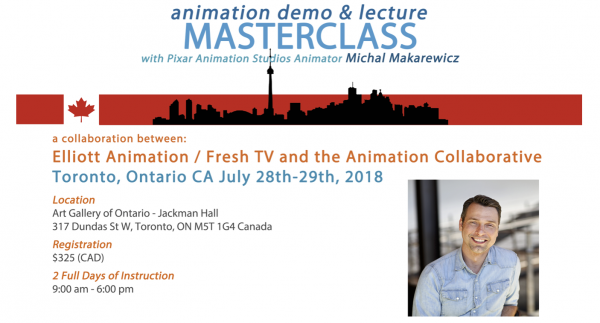 Very cool event coming up thanks to the gang at Elliott Animation, July 28-29th
Hello fellow animation friends!
Elliott Animation will be hosting a master animation workshop with Michal Makarewicz – animator on The Incredibles and The Incredibles 2, Finding Dory, Up, Inside Out, Brave, Wall-E, Ratatouille, Toy Story 3, Cars and more. The event will take place on the weekend of
July 28 – 29th
at the Jackman Hall in the Art Gallery of Ontario. Details are contained within this e-mail's attachment.
If you or anyone you know is interested in attending this class please register soon as seating is limited. This masterclass is open to the animation community so please spread the word. This is a rare opportunity.