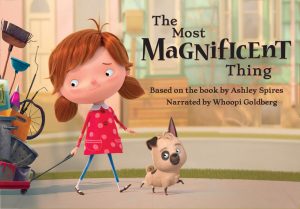 Cartoon Brew has an excellent article up regarding Ed Catmull's retirement announcement from Disney/Pixar. Catmull's impact on the global animation industry and culture is hard to measure, and it's not all roses. Amid does an excellent job of breaking down an overview of his career for the casual reader. Read it here.
Variety shares some thoughts from MipJR about the direction that Kids TV is headed in. Read it here.
Nelvana has been working on a big budget short film, the Magnificent Thing, directed by veteran Arna Selznick. Whoopi Goldberg just signed on to the voice cast. AWN has some coverage here.