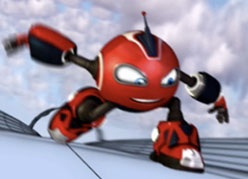 I know I already posted the Gemini nominations, but I'm going to single out my friends at Amberwood on their multiple nominations for Rollbots. I'm old pals with Craig Young over there, and I've spoken with him extensively about this show, and what it means to the company and their future.
Amberwood went out on a limb with Rollbots. It was a very new direction for them. To be very honest, in my mind, and the minds of many others in this industry, Amberwood is not a name that conjured up notions of risk-taking or cutting edge animation. They built their company on old faithfuls like Hoze Houndz, Pumper Pups, Katie and Orbie, and other traditional, deliverable kids shows.  The shows entertained and found an audience.  Amberwood had a succesful formula.
They started pushing a bit with Zero-Man. Voiced by Leslie Neilson, this show was an ambitious attempt to shake up their formula. Something was afoot at Amberwood. They haven't abandoned the old faithfuls, they have Benjamin Bear in production right now.  But they have something different too, they have Rollbots.
I'm glad to see these guys getting rewarded for Rollbots. They tried something really new, stepped outside their comfort zone, and you know what? It worked! This looks nothing like what I would have called an Amberwood show. It's fast, it's shiny and it's fun. It's a cinch for toys. It reminds me of Reboot, back in the old days, and not because it's 3D. There's a strong set of archetypal characters, who resist the urge to become flat. The villain is villainous, but nuanced. There's an underlying narrative that runs through the season, with character growth thrown in for good measure.
It's a good show.
I sat down for an interview a long while back with these guys, I'll get to it soon enough. But suffice to say, this is a new Amberwood.
Congrats guys! (here's the press release)
m
Media Advisory
Amberwood's RollBots Nominated for Three Gemini Awards
Ottawa, August 26th, 2009 – Amberwood Entertainment's latest success, RollBots has been nominated for three Gemini Awards for Best Animated Program or Series, Best Direction in an Animated Program or Series, and Best Original Music Score for an Animated Program or Series.
"We are very excited by the news of our nominations", stated Jonathan Wiseman, Senior Vice-President at Amberwood. "RollBots is a compelling new kids' series and we are delighted that our dedicated team's hard work has been recognized".
The 26 half-hour CG animated series was commissioned by Canada's YTV and premiered this past February. It is slated for a September 2009 launch in the US in TheCW4Kids Saturday morning program block on The CW Television Network. The series is also complimented by an extensive online gaming world at RollBots.com.
RollBots introduces the world of Flip City and Spin, a crime fighting 'bot who lacks a tribe of his own but makes up for it with incredible speed. Spin takes on criminals in Flip City and while on his adventures, discovers many things about himself, including why he has no tribe.
About Amberwood Entertainment:
Amberwood is a producer, financier and distributor of high quality animated and live-action television series, specials and features.