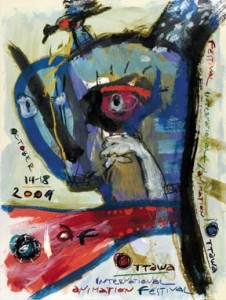 Tomorrow, Wednesday, is the opening of the 2009 edition of the Ottawa International Animation Festival, which is a big deal.
The Ottawa festival is the premiere industry event in Canada for our community.  It brings together a vast collection of Canadian and International talent the likes of which you just won't see anywhere else.
I've been going since 1990.
I will see friends this week that I won't see for another year.  I will get to watch a bunch of cool films.  I will meet people I respect and admire and will get to hear them talk about something I love, which is a big deal.
I'll see students working up the nerve to talk to industry people and directors whose work they admire.  I'll get to host a panel for the first time.  I will be introduced to people who have read this blog.  I'll see filmakers recognized by a jury of their peers for having made something excellent.  All of this is a big deal.
The Ottawa Festival is a great show, run by a lot of great people.  Folks come back year after year to gather with their tribe, share stories, compare notes, and sometimes do some business.  I'm going to try to take in as much as possible this year, and I'll do my best to tell you about it here as we go along.  I've got some other contributors lined up too, so check back and we'll do our best to fill you in on what and who we see as the week progresses.
m