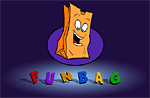 Funbag Animation Studios was a mainstay of the Ottawa animation scene from 1993 to January of 2007, when the partners decided to close shop and go their seperate ways.  Funbag had started out in the service business, like so many others, and had made the transition over to producing their own shows, like For Better or For Worse, with Lynne Johnston, and the Mole Sisters.  Since hearing the news that they'd shut down, I often wondered what had happened to those properties?  My answer came recently from Rick Morrison, former Funbagger and now one of the partners at Ottawa-based Big Jump Entertainment.  Rick has partnered with another well-known Ottawa industry name, Mark Edwards, to launch New Bike Entertainment, and, as New Bike, they have secured the assets of the well-known studio.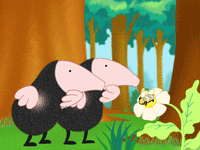 Rick spoke very frankly about his old shop.  He's obviously very proud of what he and his former partners, Gord Coulthart, Don Spencer, and Curtis Crawford (Frank Taylor was also a partner for a while) accomplished.  The impact of this company on our industry and community here in Ottawa was profound.  For may years, Funbag was seen as THE place to work.  It's the first studio I ever set foot in, and the half hour that Gord Coulthart gave me pretty much got me my first job in the industry a month later when I showed up at Studio B in Vancouver.
The company serviced all kinds of big gigs, including the Simpsons and Ren & Stimpy and provided steady work to herds of artists and production people during what Rick refers to as a "great run".  They produced hundreds of hours of cartoons, but besides all that, according to Rick, they had fun.  Husbands and wives met at Funbag.  The steady work generated by the studio allowed people to buy homes for their families.  That's a pretty big deal in a cyclical industry, particularly given the time in question.  Not so long ago, maybe, but back then a lot of studios were getting away with pretty loose employement practices.
Now, I don't want to look like I'm sugar-coating here.  Funbag, like any studio, or other business for that matter, likely has its detractors.  Like Studio B in Vancouver, it's often referred to as a "boys' club", but I'm not going to comment to that effect.  I did a little piece work for them over the years, but my own personal experience there was limited.  It came as a bit of a shock to me when they closed though.  To me, they were part of the landscape, and I just sort of assumed they'd always be around.  But one day, they were gone.  There were the usual rumours.  Had they gone bankrupt?  That was not uncommon to Ottawa animation natives, so the question came up.
Rick explained to me that it really just played itself out.  As of 1998, the company had focused increasingly on proprietary work, and service had become less of a priority.  They had success with Mole Sisters and For Better or For Worse, and were in the midst of seting up two new shows with Canadian broadcasters.  Sadly, both those shows fell through.  The partners took it as a sign, and parted ways.  Pretty simple actually.  No big drama.  They just shut down.
Rick's still very active in animation.  He's got a solid shop running at Big Jump.  I had the pleasure of grabbing a sneak peak at what they're doing on Amberwood's Benjamin Bear.  I'll admit to having had pretty mediocre expectations, as it's not my personal taste in cartoons, but they're really knocking it out of the park!  The show looks great.  And now, he's got New Bike with Mark Edwards.  Together they've put together a deal to secure all of Funbag's assets, which is nothing to sneeze at: the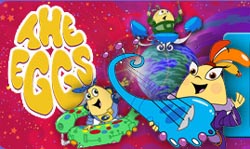 previously mentioned Mole Sisters and For Better or For Worse, plus Eggs, Toad Patrol, King, Joey and Faireez.  It goes without saying that they'll be looking at what to do with the properties, and in today's landscape, with portals like Cookie Jar's Jaroo, who knows where we'll see this stuff pop up.  90 or so hours of programming is a pretty good chunk of media.