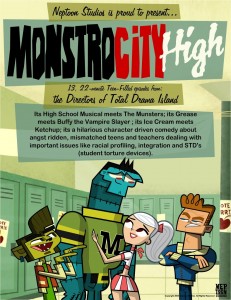 March 22, 2010.
This kind of thing happens all the time: you have an idea for a show, you draw some sketches, come up with some characters, maybe even put together a pitch, then discover that someone's pitching, or already producing, something similar. Often enough, you can chalk it up to dumb luck and sheer coincidence. Sometimes, though, the situation's not quite so innocent. It happens. It happened to me years ago. I pitched a VERY rough version of a character and premise to a studio I was working for. The owner was very interested, but service work was the rule of the day and progress was shelved. I left the company a while later. A few moths pass, and a friend of mine calls to inform me that he's been put in charge of developing an idea for that same studio, an idea eerily similar to my own. Being a good friend, he did his best to keep it as far from my concept as possible. Being a starving animator, he couldn't turn down the job.
Shit happens.
So, is shit happening to Neptoon Studios?
Neptoon has been, very publicly, developing a series called Monstrocity High. They've got it up on IndieGoGo and they post about it on their blog.
It's all very transparent, and a great way to watch the development of something like this. Here's how they descibe the show:
In a split world, two rival high schools from opposite sides of the fence are fused together in a supernatural earthquake. Now MONSTERS and HUMANS must share everything from curriculum to restroom. But when Crush, captain of the Monster football team and Cherri, head of the Human cheerleading squad fall in love, they do everything possible to keep it on the down low – if anyone found out, it would cause a huge Monster/Human riot spelling the end of Monstrocity High FOREVER!
Will the faculty discover that working together could make their school the best EVER? Will the students learn that it's okay to be different as long as they're incredibly good looking and popular? If they're gunna survive the year, they'd better work together and watch each others backs, hunched or not.
It's High School Musical meets Buffy the Vampire Slayer; it's Grease meets The Munsters; it's Ice Cream meets Ketchup; it's a hilarious character driven comedy about angst ridden teens and teachers dealing with important issues like racial profiling, integration and STD's (Student Torture Devices) – not to mention a LUNATIC of a drama teacher hell bent on writing a Rock Opera with a MONSTER THEME!!!!…but you know, whatever.
Sounds fun, no? And it's not like these guys are unknowns. They work in the industry, successfuly even. Neptoon is Todd Kauffman and Mark Thornton, the directors of Teletoon and Cartoon Network's hit series, TOTAL DRAMA ISLAND. As Canadian shows go, it was a huge hit. And set records for Cartoon Network in the states.
Now read this (via Publisher's Weekly):
Under license from Mattel, Little Brown Books for Young Readers will be publishing a new YA series, Monster High, written by Lisi Harrison, best known for the Clique and Alphas series. In the books, the sons and daughters of Frankenstein, The Mummy, and other famous movie monsters, disguised as humans, interact with the modern teenagers who are their fellow students.
The concept was created in-house by Mattel, which sought out a publisher to help establish the brand and its storylines and characters. "This is an original intellectual property that we're launching as a franchise," says Mattel spokesperson Sara Rosales. In addition to books, there will be toys, including dolls, accessories, and games; online content; future entertainment vehicles; consumer products such as apparel; and an extensive marketing campaign.
Mattel created the premise, initial characters and look-and-feel, but wanted the author to have broad freedom when writing the books. "It's to Mattel's credit that they wanted a well-known author who can bring so much to it creatively," says Little, Brown senior executive editor Erin Stein, who is editing the series. "They wanted a great book that stands alone and has a great story and characters."
Damn.
Comments on the Publisher's Weekly article are already calling foul.
There is NOTHING original about this idea at all! As was previously mentioned, Todd Kauffman has been working on his property "MonstoCity High" for years, including producing promos and vinyl figures. And since Mr. Kauffman is currently working with Mattel, it makes it all the more suspicious. Billy Roberts (Note: Todd is only working for Mattel INDIRECTLY. mv)
Wow! Just the fact that "This is an original intellectual property that we're launching as a franchise," was put in this story makes me wonder if Mattel realized they may be standing in a gray area. I myself have been watching Todd's project for years. Cyrus Cords
Coincidence? Swipe? I can't say. Either way, this isn't a great situation, and has the makings of a real David and Goliath dynamic. Mattel prides itself on being a corporation with integrity. From their website: Mattel employees are responsible for acting with integrity, treating others with dignity and respect, being honest and fair in all transactions and consistently striving to "do the right thing." So, what's the "right thing" in this situation? Will Mattel even comment? We'll have to wait and see.
In the meantime, here are some test animations for Monstrocity high.

UPDATE: According to an article on pajiba.com dated February 10th, 2010:
1) This is the logo for Monster High
2) As of last summer, Mattel was developing the property as a family-horror -musical movie, described as "Hairspray meets Grease meets Beetle Juice"
3) The article offers the following: official announcement on this project will likely be postponed until the intellectual property rights are secured. It was published for opposition in mid-January, and assuming there is no opposition, it typically takes another 30 to 60 days to become official. In other words: If anyone wants to forestall this movie, file an opposition claim. Sounds like the rights have cleared.
I also found this description for Monster High dolls on atamaii.com
Creepy Guys, Gouls, and Pets at Monster High!
The Monster High doll lineup for 2010 includes Draculaura, Clawdeen Wolf, Frankie Stein and Lagoona Blue. They are the coolest ghouls in school with their trendy fashions, accessories and cute scary pets! These dolls are fully articulated so they can be posed in many different ways! Includes 1 doll, pet, accessory, diary, brush, and doll stand.
The high school sweethearts Cleo De Nile and Deuce Gorgon are the most popular couple at Monster High and the most fashionable! Deuce Gorgon comes with his pet rat, Perseus, and his cool shades. Cleo De Nile has her pet snake, Hissette, and gold purse.
Monster High dolls by Mattel.
No comment from Mattel or Neptoon so far.