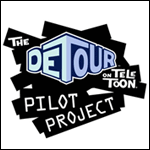 Last year's batch of Teletoon's tax credit babies are now available on iTunes. Among the titles are:
Angora Napkin
Dunce Bucket
Ninjamaica
Fugget About It
Chinatown Cops
Space Knights
Celebutard Nation
Drop Dead Gorgeous
Nerdland
You can find out more on the official Teletoon website or via Mike Valiquette's reviews from last year.
If you like these eps, I guess we're supposed to DL them over and over, just like we voted for them over and over last year to no effect. If I remember correctly, in spite of these being called 'pilots' not one of these have been greenlit into a series. Therefore, I suspect these cartoons were much like like YTV's FUNPAK series from five years ago – a potentially bogus open call designed to spend federal grant or tax money to ensure the company's eligibility for the next fiscal year.
I'd like to be proven wrong, Teletoon. Perhaps someone in your boardroom has had the courage to back one of these Pilot Project ideas and actually make one into a series that you wholly own and can properly license? Time shall tell.
YTV's already got a leg up by co-producing at least one from their crop of the FunPak calls: Sidekick. Granted, it took five full years to get around to Sidekick, but at least they pulled their socks up and did it. Others in that run included: 'Cool man!', 'Gruesomestein's Monsters', 'Harold Rosenbaum: Chartered Accountant', 'Martini and Meatballs', 'Miracle Koala', 'Rotting Hills', 'The 9th Life of Sherman Phelps', 'The Manly Bee', and 'The Wild Wild Circus Company'. As far as I know, none have been developed by YTV into a series. Personally, I think 'The Manly Bee' had a shot until 'The Mighty B' showed up at Nickelodeon, and 'The 9th Life of Sherman Phelps' could be interesting. But YTV didn't listen at all to the numbers in 2005, as 'Gruesomestine's Monsters' often won their competition weeks and yet never got the greenlight. It's kind of odd that YTV let 'Sidekick' lie fallow until someone else expressed an interest in it and the rights were about to revert back to the creators. Makes you wonder why these broadcasters bother, doesn't it?
I hope Teletoon is better organized than their competitors have proven to be with these open calls. Once the California studios figure out their new tax credit system, I have a hunch us cartoonists are gonna be in a world of hurt unless the homegrown stations really start backing creators in their own backyard.
It's pretty ridiculous that so many Canadian creators are continously pitching to interested American production companies & networks and not getting any interest from the production companies and broadcasters down the street.  Some creators get traction at home after meeting with those same Canadian production studios while they're both in LA. (The creators of 'Spliced!' did exactly that, as stated in this WGC podast). Now that's just weird.
In the meantime, don't hesitate to DL all the Detour eps you can stomach, cartoon fans. It very well may be your last chance until the rights revert to the creators four years from now. That is, unless Teletoon is on their toes. And I hope they are.